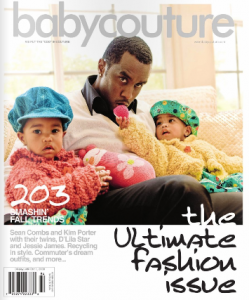 Diddy's girls D'Lila Star and Jessie James star in Baby Couture's fashion issue donning many adorable fashionable outfits.
For the Cover the girls wear Zutano Maple Bolero sweaters paired with their plume printed skirts.
Inside the magazine the twins get a generous spread in which they wear some of the cutest clothes available.
We recently reviewed the velvet flowered hats that both girls wear while being held by their mom in Kim's fabulous closet.
Please pick up a copy of Baby Couture's 'Ultimate Fashion' issue to see the whole photo shoot.
---
---
[ad]