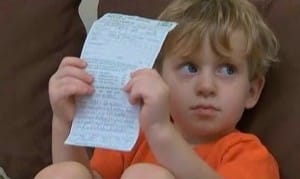 Philadelphia mom Caroline Robboy learned the hard way that letting your child pee outside could cost you some money.
While out shopping with her kids last week, the mom of three directed her 2-year old son to pee in the grass beside a store, after they refused to allow him to use their facilities. He opted, however, to go on a light signal pole and the next thing she knew, a 'police officer was issuing her a $50 ticket for public urination and a giving her lecture about how she could be allowing a potential "pervert" to get a look at her son's private parts'.
While my boys have never pee'd near a major street, there has been the odd time that I have steered them towards the bushes when we've been at the park and there are no bathrooms close by.  It is not an everyday routine for us, but a last resort if no formal options are available.  Thankfully we have had the good fortune to be in the right place at the right time and have never been slapped with a ticket.
Caroline's son Nathaniel is only two and may not understand that he just can't go anywhere.  Kids, especially the little ones, don't always have the ability to hold it and often don't give a lot of warning when they REALLY have to pee.
While it may not have helped in this situation, more and more parents are carrying portable potties in their cars especially if they have little girls.
A couple of years ago while getting gas I pulled up behind a big SUV and witnessed a mom using a potty in the back of her truck for her twins.  At the time it was unusual to see a child sitting in the back of a truck on a potty, but now, two kids later I get it.
As parents, you try to be prepared for everything, but sometimes you just need to improvise.
---
[ad]