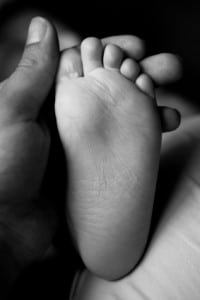 When baby Shwetang Pandey was born, instead of celebrating his arrival doctors in a remote town in India asked the family to abandon the child because of a life-threatening hernia that hung from his tiny skull. But not ready to give up on their son so easily, the family brought him to Delhi where doctors removed the huge 17lb fluid-filled protrusion saving the baby boy.
The Pandey family is from Siwan district in north Bihar. When the baby boy was born with a 10 cm long lemon sized swelling, local doctors said the infant's brain had no scope for brain development and would not survive.
Within two months the swelling grew from being 10cms to 80 cms long and weighing more than double the weight of the child. Disheartened but not ready to give up, the family brought the baby to New Delhi's All Indian Institute for Medical Sciences (AIIMS).
His hernia was so big that Shwetang's mom Sushma had to carry the infant to the hospital in a tub.
According to A.K. Mahapatra, head of the neurosurgery department at AIIMS,
"When the baby was brought to us, a huge hernia hung at the back of his head. He weighed 24lbs and we decided to conduct a surgery inspite of the long waiting list we have at AIIMS. Nearly six litres of fluid was drained from the baby`s hernia that hung from the baby`s skull."
The baby boy suffered from encephalocele, a condition that occurs due to malformation in the skull during birth. On 23rd January doctors performed a two hour long surgery and used a suction pipe to remove the fluid containing proteins, fats and sugar forming the huge hernia.
"Nowhere in the world have we seen such a giant encephalocele and that too on such a small baby. This is the largest hernia so far," Mahapatra said. "Thankfully, the brain had too little a portion in the hernia. Otherwise it would have been very difficult to remove the hernia," he added.
The surgery was a challenge nonetheless. Because of the tiny size of the baby boy, surgeons had a tough time controlling blood loss and body temperature.
"The child was too small. Children have a small blood volume, and even little blood loss during the surgery could have been fatal," said Vivek Tandon, assistant professor at the neurosurgery department.
Miraculously, Shwetang has recovered totally and weighs a healthy 6lbs post surgery.
"Some said the baby has two heads, some said it is god`s gift. We were initially apprehensive about the surgery, but doctors gave us strength," said Sushma.
Doctors say that his condition might have occurred due to nutritional deficiency during pregnancy, mother's exposure to radiation, or some genetic factor.
Related Articles:
---
[ad]