It was a family day out for Drew Barrymore and her husband Will Kopelman.  The couple was spotted leaving a restaurant on Saturday after having lunch with their daughter Olive.
Will carried the high chair, while Drew carried her giggly girl!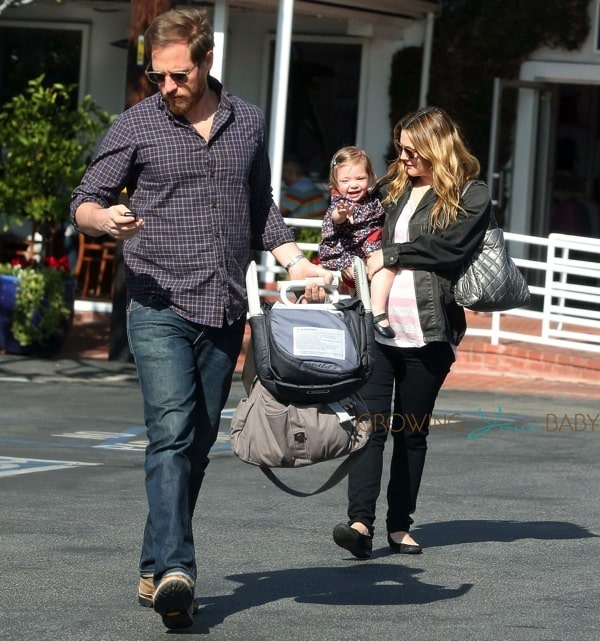 For the past few weeks the actress has been making the media rounds promoting her new book.
"I have always loved hearts,"  Drew writes in the foreword to the heartwarming book. "The way that continuous line accomplishes the most extraordinary thing–it conveys love." In FIND IT IN EVERYTHING, Drew shares the photographs she has taken of heart-shaped objects and patterns she has come across over the past ten years. Some are obvious and others barely discernible. A discarded straw wrapper, a hole in a T-shirt, a scallion in a bowl of miso soup — seemingly everywhere she turns her lens a heart reveals itself.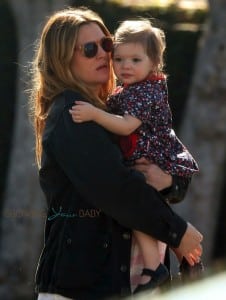 Six months pregnant with her second daughter, Drew recently dished to Ellen about her love for food this time around.
"Oh God. I mean, I just eat everything I want, which isn't healthy. I'm bigger this time than my first time. My doctor the other day was like, 'Yeah, so I think maybe pull back a little bit.' I was like, 'Really?'"

"I thought I was doing great," she added. "I still fit into those jeans. I mean, they hurt when I wear them, but I'm still in them…I just want to enjoy the pasta right now. It's not like it's going to look that much different! What's 10 pounds?"
Agreeing, Ellen told the actress,
"You deserve anything you want. You are making a human being. That is hard work…I mean, eat whatever you want."
"Thank you!" Drew replied. "When I'm, like, twirling those vegetable pan fried noodles from, like, Chinese takeout later, I'm going to say Ellen said that it was way okay to do that."
{INFPHOTO.COM}
---
[ad]