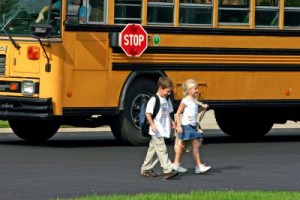 Every year, as the school session gets back in order, adults and children have to readjust to each other on the way to and from school. In New York, the newly passed "Ellie's Law" will serve as a harsh reminder of what can happen when those driving cars do not notice the children all around them.
In September of 2009, a 3 year-old Ellie Vandenberghe was hit by an SUV on her way to preschool. The driver, in an effort to get a good parking spot, ignored the children around him heading to school. He backed through a crosswalk – against a red light – and struck Elle. She suffered major trauma, including a coma, a stroke, and losing 2/3 of the left side of her brain. The driver, however, only received a traffic infraction and a small fine.
Governor David Paterson of New York, recently passed Ellie's law to hopefully prevent another tragedy like this from occurring. The law will force drivers who recklessly injure pedestrians to have his or her license suspended for up to a year. This new law was passed less than two months after the New York State Legislature unanimously passed bills sponsored by Assembly Member Micah Z. Kellner (D-Manhattan) and State Senator Martin Malavé Dilan (D-Brooklyn).
"I want to thank Governor Paterson for signing this important piece of legislation into law, and extend our gratitude to Speaker Sheldon Silver, Senator Dilan, Assembly Member Kellner and the members of the State Legislature for shepherding 'Elle's Law' through the process," said Heather Vandenberghe, the mother of Elle. "The main goal of 'Elle's Law' has always been to protect pedestrians of all ages across New York State from suffering the same fate as my daughter. Elle's Law will serve as a strong deterrent to motorists who might consider breaking traffic laws, and as a result will make our streets safer."
Though Ellie's Law covers only New York state, parents all across the US and Canada are encouraged to pay attention and look around them as the school year kicks off. Children on their way to and from school are at danger of being hit by drivers not paying attention. According to 2008 data from the New York State Department of Motor Vehicles, there were more than 15,000 pedestrian accidents statewide, with more than 97 percent resulting in physical injuries.
As the school year kicks off, adults should:
Pay attention turning the hours before and after school. These are times when children may be more likely near the streets.
Drive slowly in areas near schools, near crosswalks and anywhere where children are present.
Teach your children to watch for cars, even in safe areas such as crosswalks. If possible, teach your children to only cross where a crossing guard is.
Too many children are injured each year by drivers not paying attention. Hopefully, with strict laws such as Ellie's Law, more people will slow down and follow the safety rules to make the streets a safe place for everyone. – Summer, staff writer
Related Articles:
---
[ad]