This past week we had the pleasure of staying at the Buenaventura Grand Hotel and Spa in Puerto Vallarta.   This mid-sized all inclusive resort is located in the heart of Puerto Vallarta, just 15 minutes from the airport, and a couple minutes walk from the famous Malecon boardwalk.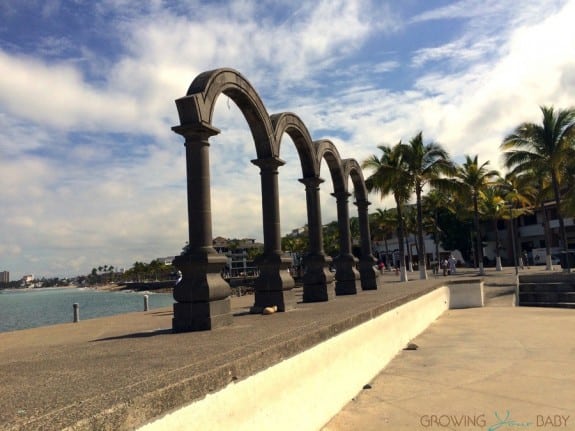 Perfect for vacationers of all budgets, the Buenaventura Grand Hotel and Spa offers a variety of rooms from a standard deluxe room up to the junior suite with a jacuzzi overlooking the ocean.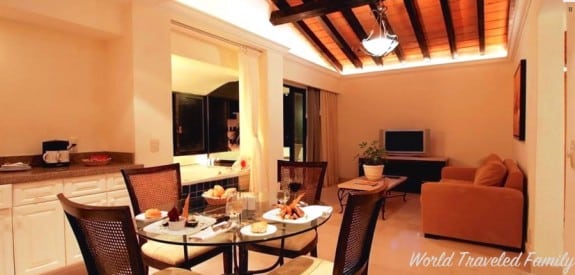 My room was a deluxe room with a king bed(FULL tour here).  Families who are looking to sleep more can book the same room with two double beds to accommodate 4 people.  The room was well appointed with a shower, safe, coffee maker, flat screen television and a small dining area for 2 My room didn't have a balcony but vacationers looking for a nice view can upgrade to an oceanview room, which overlooks the middle of the resort and the water.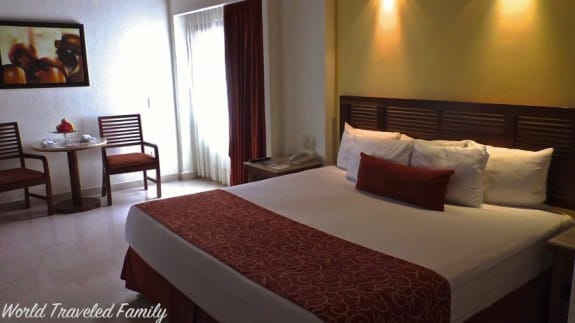 The hotel technically has 2 restaurants for vacationers to eat at; the Frutas y Flores Restaurant, and the Beach Club Restaurant & Bar.  At dinner, however, the second floor of the Frutas y Flores dining room is transformed into the Bistro Gourmet Restaurant, with a la carte service and the beach club becomes the Sunset Restaurant.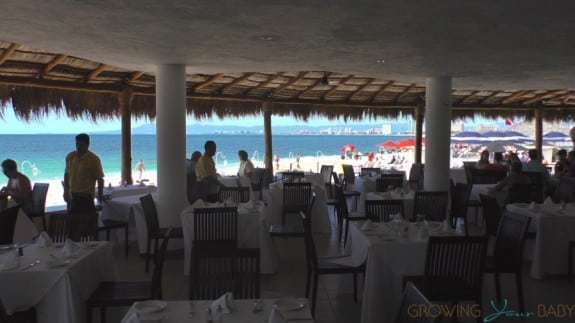 Located right off the lobby, the Frutas y Flores Restaurantis the resort's buffet location that offers a large variety of items that are both traditional Mexican and international cuisine.  At breakfast you can expect items like Pot beans, refried beans, chicken stew , beef stew  – along with popular items like eggs, bacon, waffles, and omelets. Guests are also able to order from an a la carte menu if you are looking for something else.  As well as an expansive hot menu, this restaurant has a great selection of fruits and yogurts at breakfast, and salads and desserts at lunch and dinner.
If relaxation is what you're after, the pool deck has lots of spots where you can sit back and enjoy the sound of the waves rolling in.   The  Buenaventura Grand Hotel and Spa has rows and rows of chairs with umbrellas on the beach so vacationers don't have to worry about not getting a good spot.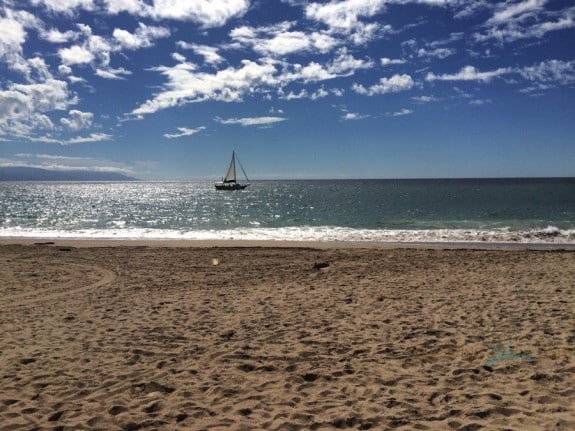 The pool area has 2 bars, 3 pools and a restaurant that overlooks the ocean. If you just want to stay cool while basking in the sun there are loungers that are just partially immersed in the water that also face the ocean.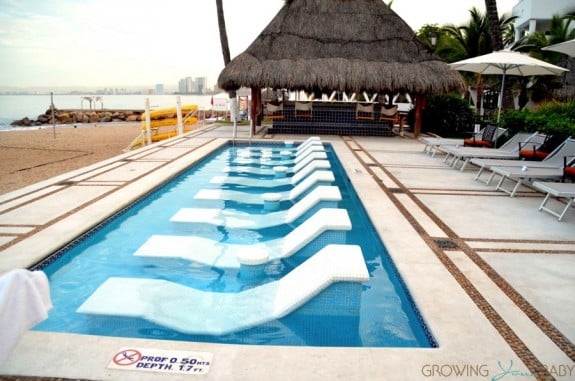 Only steps from there is a little hut that serves beverages to guests on swings.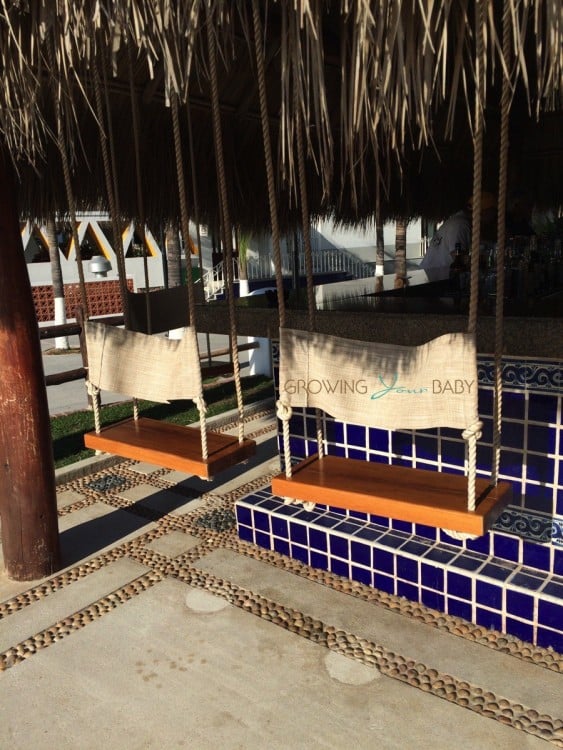 Kids get their own splash pool, and a club that offers a variety of activities from playing soccer and building sandcasles to creating art projects and playing board games.  The Candu kids club is complimentary for kids 4-12 between 9-5.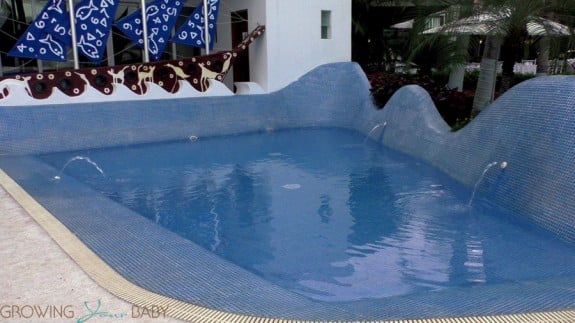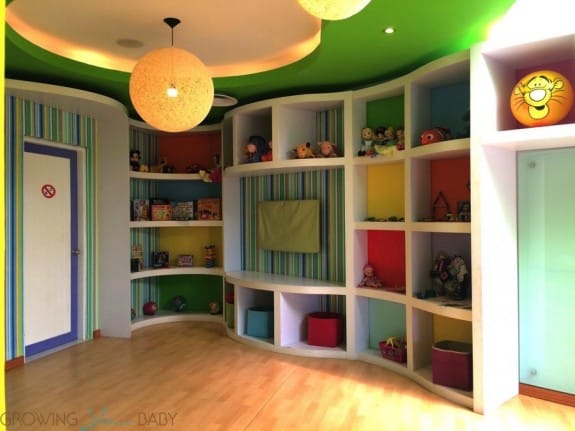 If you are looking to stay active while on vacation the resort has a fitness room that comes with a bit of motivation – it overlooks one of the pools and the ocean. It isn't a large space but it has what you will need to get a quick workout in. There are 4 treadmills, two elliptical machines, a weight station and a fitness area.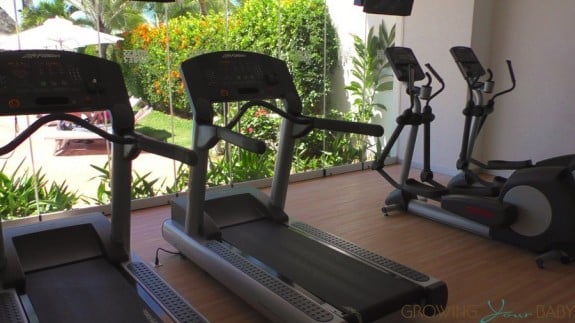 The shaki spa is located at the back of the resort just steps from the ocean.  This open air oasis offers massages, scrubs, facials and therapeutic body treatments to give new life to stressed, worn-out bodies.  Afterwards relax in the jacuzzi overlooking the sea.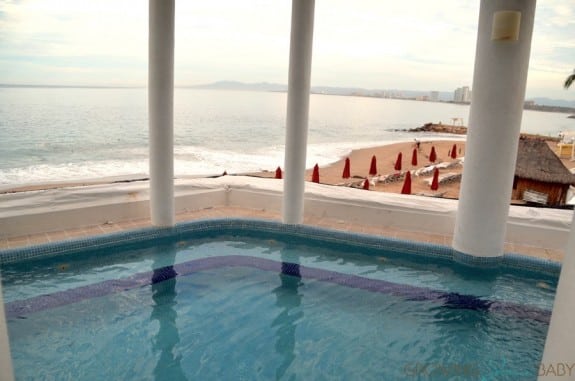 The Buenaventura Grand Hotel and Spa is a great hotel for vacationers looking for a mid-sized property that is close to all of the action, while offering all of the amenities you need for some relaxation.  This resort is clean, the staff is always on call when you need something, and it offers a lot of great perks without the crowds.  For more information please visit the hotel's website!
Please check out our video below to see more!
---
[ad]