From the moment you arrive at Loews Royal Pacific Resort at Universal Orlando you will be struck by the incredible exotic feel the resort has.  From the lush landscape to the the rich wood decor and tropical accents, visitors are transported to the South Seas without the long flight.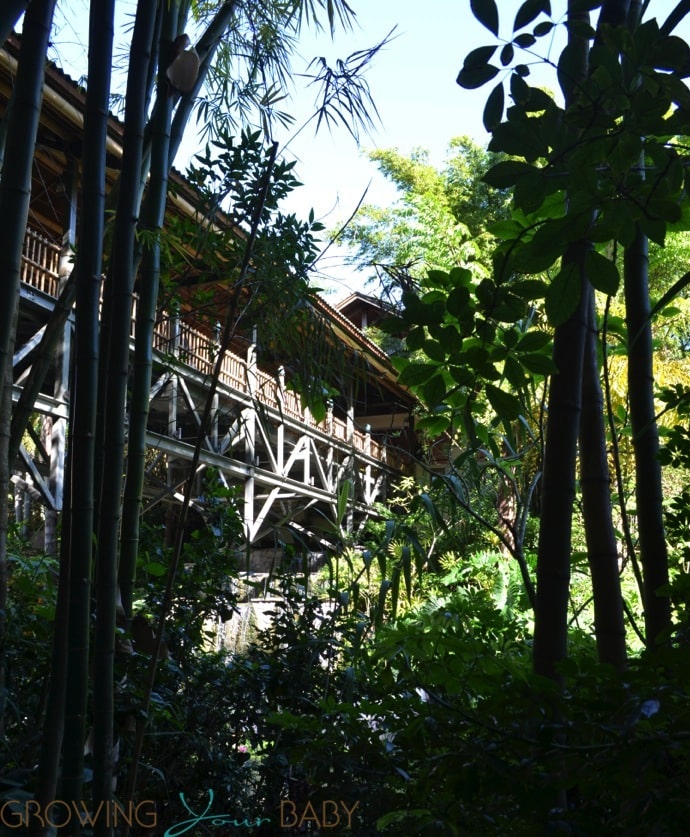 A 15 minute drive from the airport, the resort is located right beside Universal Orlando's two theme parks; Universal Studios and Island of Adventure.  In fact we could see many of the rides from our room.
When you enter the main lobby you are welcomed by the Royal Pacific's elaborate fountain.   Reminiscent of what you would see in the South Pacific, the center piece of the court is a huddle of elephants playing in the water.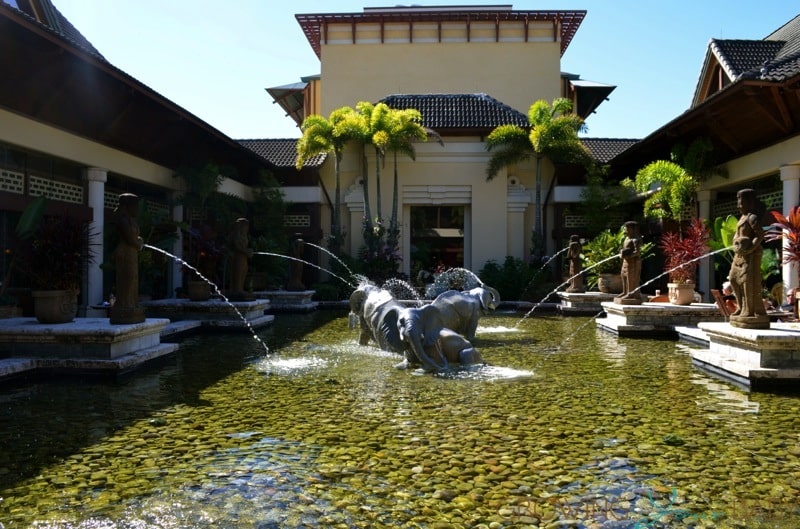 They are surrounded by statues holding buckets of flowing water.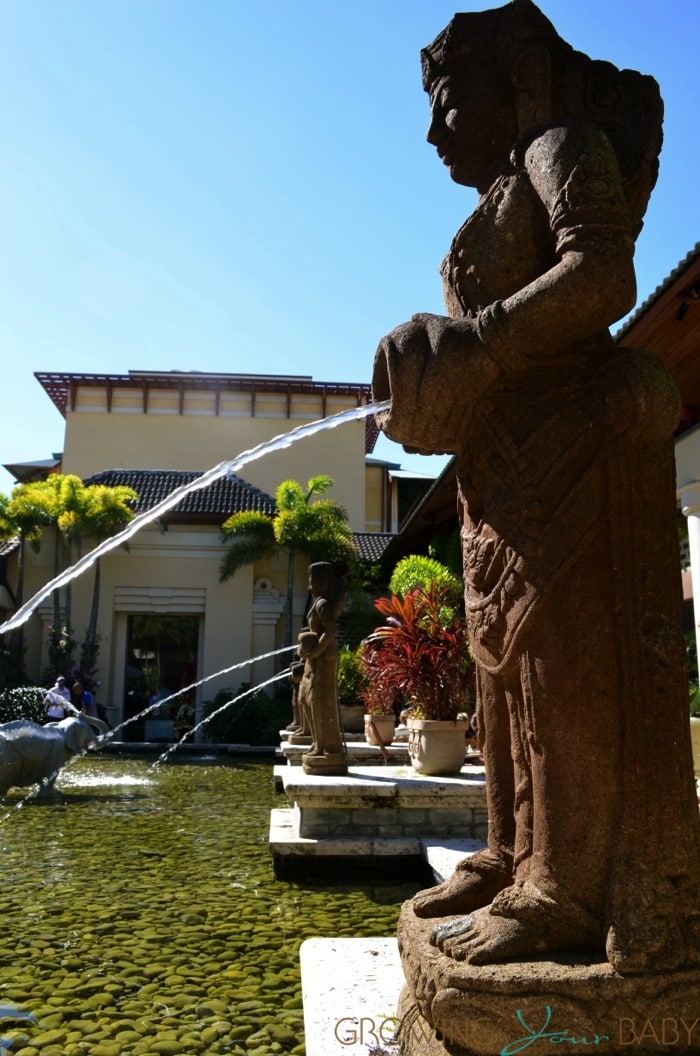 Day and night, this space is often filled with visitors who want a nice place to enjoy a snack, read a book or catching up on e-mails thanks to the complimentary lobby internet access.
When we arrived we had the opportunity to grab a bite and tour the property while our room was being made up.
As you walk along the back of the resort you will come to the dock where you can take the water taxi to the city walk, other resorts or entrance to both amusement parks.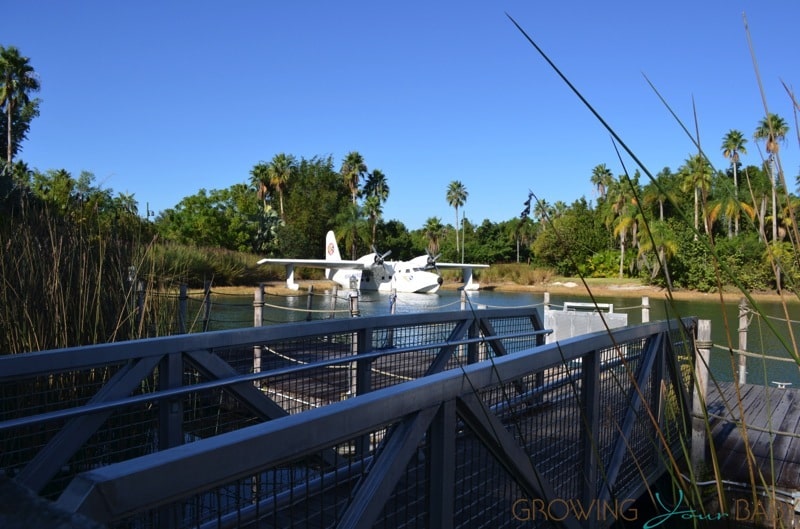 If you stroll along the path a little further you will find some Beach chairs in the sand with a volleyball court overlooking the lagoon.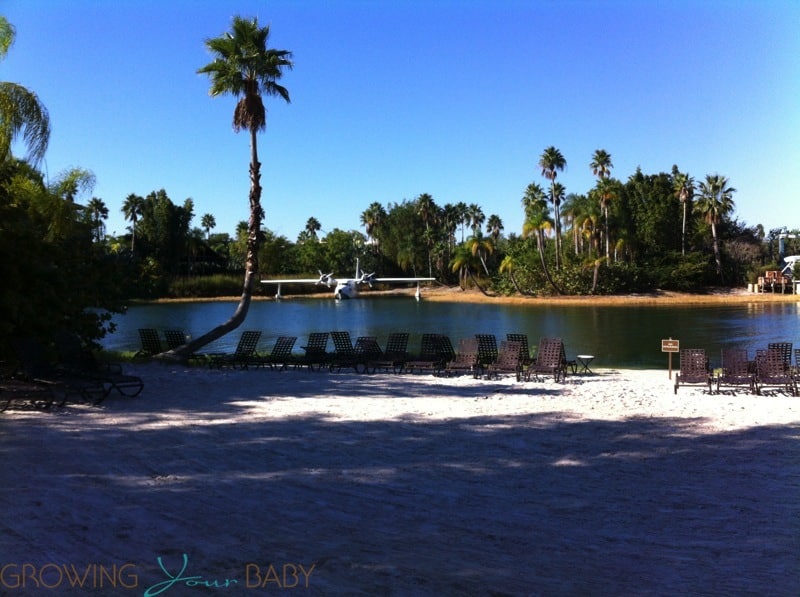 I wouldn't say you could swim here because it is where the boats pass by all day transporting guests, but it is definitely a nice place to sit and relax.
Continue along the path and you can walk along the canal over to the parks. This is a nice walk and it takes only a few minutes.  I love how everything is so interconnected.  We didn't have a car rental for this trip so this was perfect for us.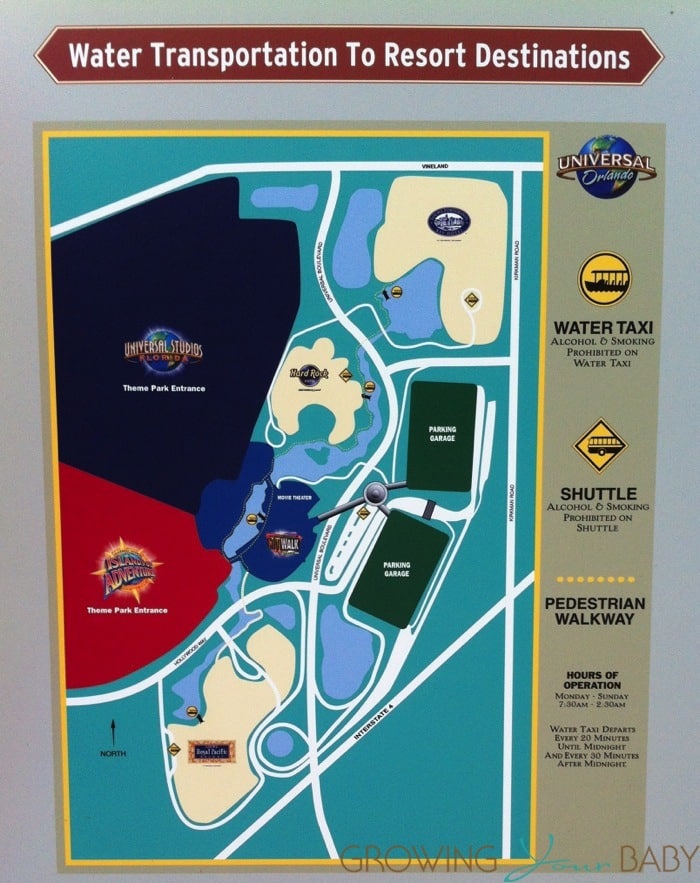 After traveling all day however, my crew was hungry so it was time to grab some lunch.
The Royal Pacific Resort has five restaurants to chose from; the Islands Dining Room, Emeril's Tchoup Chop, Orchid Court Lounge & Sushi Bar, Bula Bar & Grille and Jake's American Bar, which we chose.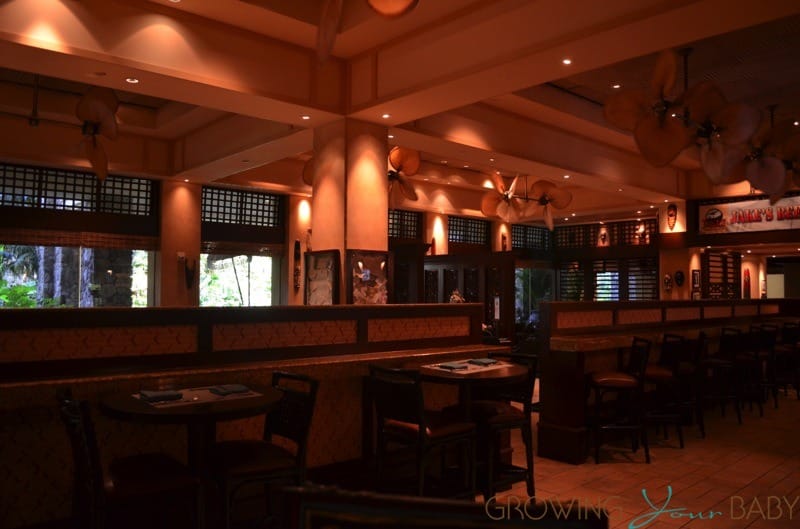 Casual and comfortable, Jakes offers a variety of appetizers, salads, sandwiches and entrees.  They also have a great kid's menus with a large range of choices.  My boys had pizza, I had fish and chips and my husband tackled the Fly Boy Beef & Cheese Fries.   Our lunch was less that $50 and everyone was happy and fueled up.  But best of all, our room was ready!
The Royal Pacific Resort has three towers and each location gives visitors a view of a different side of the property.
Our room, which was located in tower 1, had two double beds, a small sitting area and a bathroom that is divided into a bathing area and a prep area.
Families of 4 can appreciate this set up as it allows one to get ready while the other showers or bathes. Situated on the 7th floor, we overlooked the gardens and river that welcomes guests at the front entrance.
In addition to the large flat screen TV, there was a single serve Keurig machine with a variety of coffees and teas to keep us going throughout our stay.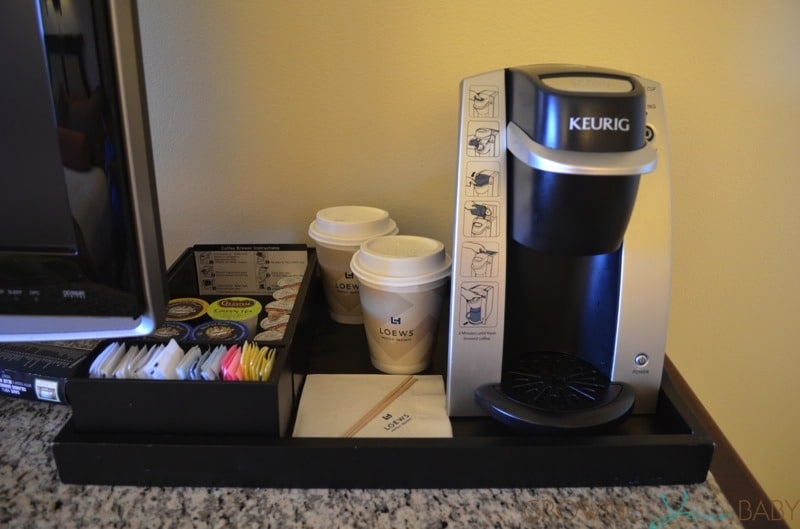 After we unpacked, we headed down to cool off in the Lagoon Style Swimming Pool.

Meandering across the whole back of the resort, this glorious pool is a sun bather's dream.
It was also a huge hit with my boys as well!  But rather than swim, they were headed straight for the Royal Bali Sea vessel that was attached to the back of the pool.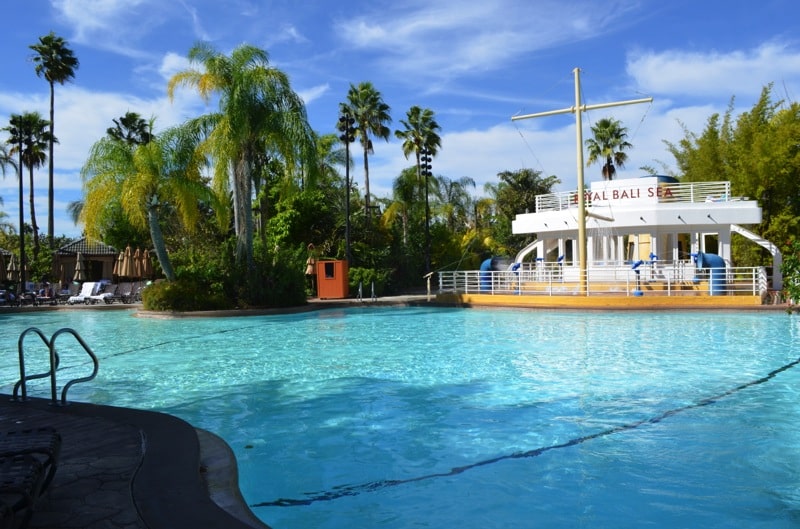 This boat themed splash pad kept them entertained off and on for 3 straight hours.  They sprayed, splashed, swam and then sprayed again.  It was a glorious cycle that my husband and I watched from the middle of the pool as we played beach volleyball with one of the many balls that were floating around.  They had been awake since 2am and this definitely was the best way to keep them from falling apart.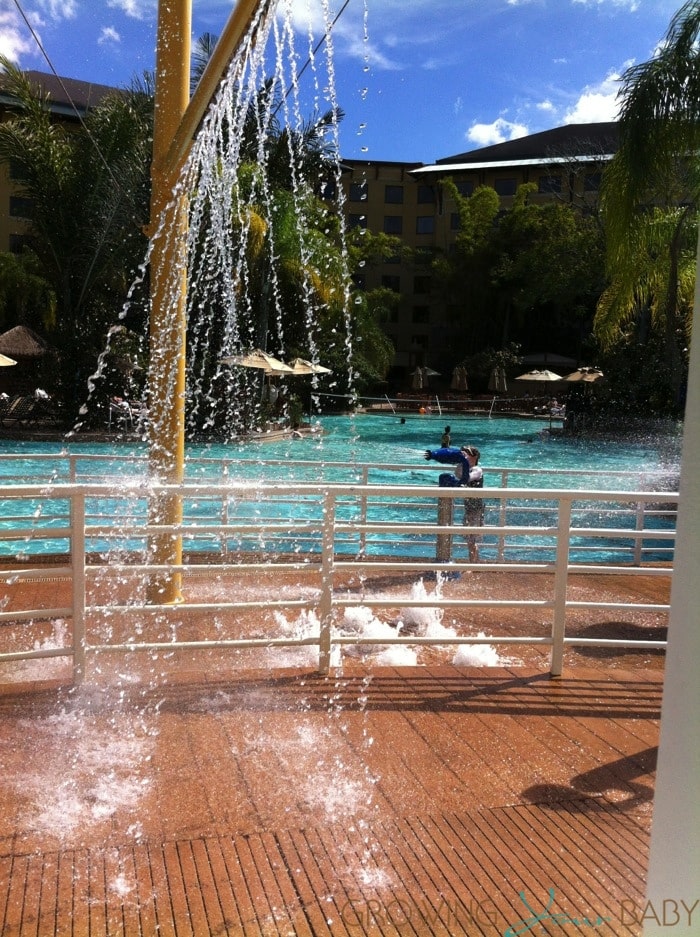 As the sun was starting to set we bundled them up and headed back to the room.   A short time later, the housekeeper knocked on the door to ask if we wanted turn down service and to offer us some bottle water.  This was a welcome gift and the bottles came in handy while we were visiting the park the next day!
Looking for a way to keep our two going we opted to have dinner at the Citywalk.  I had read a bit about all of the attractions there and knew it would be a great night out.  Our evening started with a boat ride, which was scenic and relaxing.  When it docked however, my boys were re-energized by the bright lights, pumping music and full on action that was going on around them.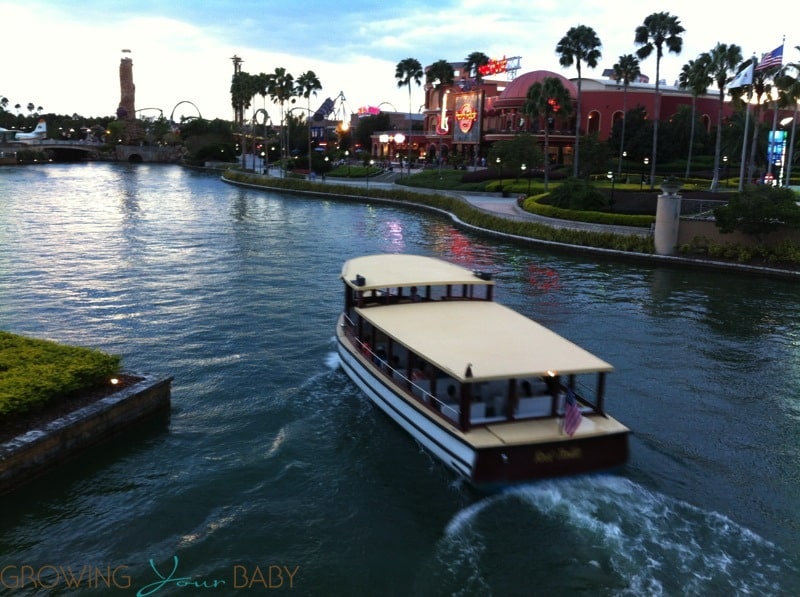 A friend had recommended the Hard Rock Cafe so we headed across the bridge where we were met with some beautiful views and a quick preview of Universal Studios. Rockit, the park's crazy adrenaline pumping roller coaster spills over the walkway so we were able to view the late night riders(Halloween Haunt) zipping by every few minutes.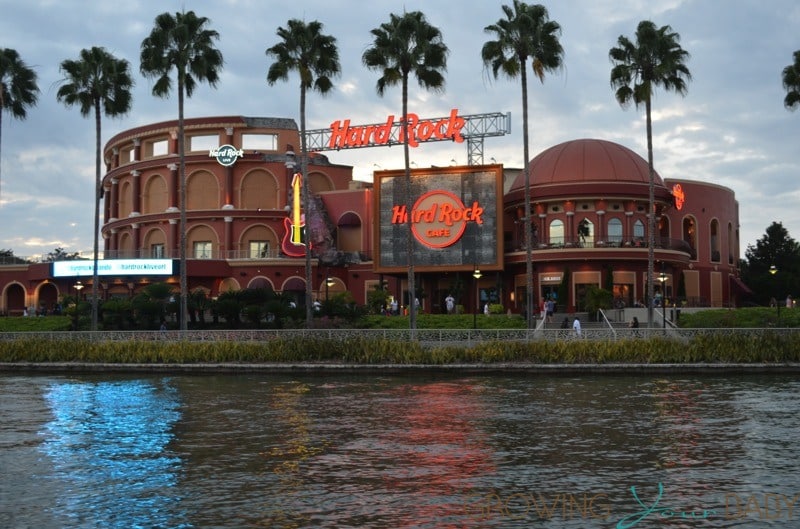 Inside the excitement continued when my son started to catch on to all of the music memorabilia hanging from every surface in the restaurant.  The vast collection here is actually mind blowing.  Original sheet music hand written by various artists, signed contracts, famous on stage costumes and even is a life sized 1959 pink Cadillac rotating in the air over the first floor bar.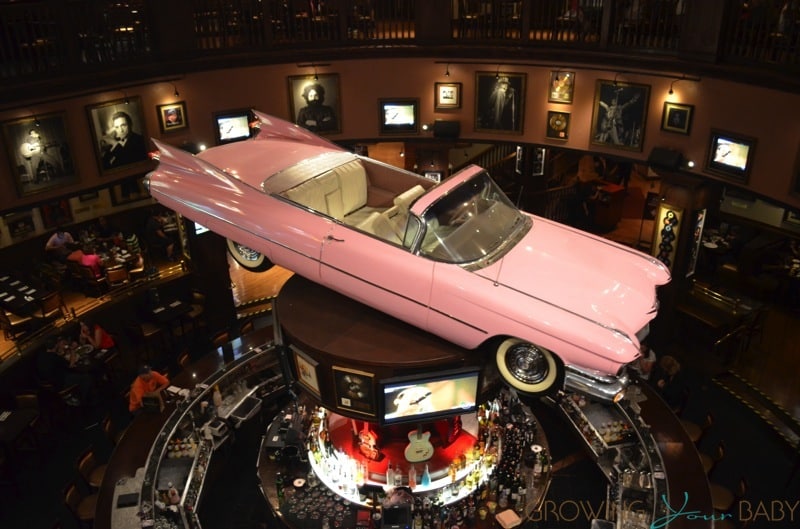 Continuing on with our plan to keep the boys going for just a little longer, this restaurant was the perfect location for us.  As an added bonus – the food was fabulous and so was the service!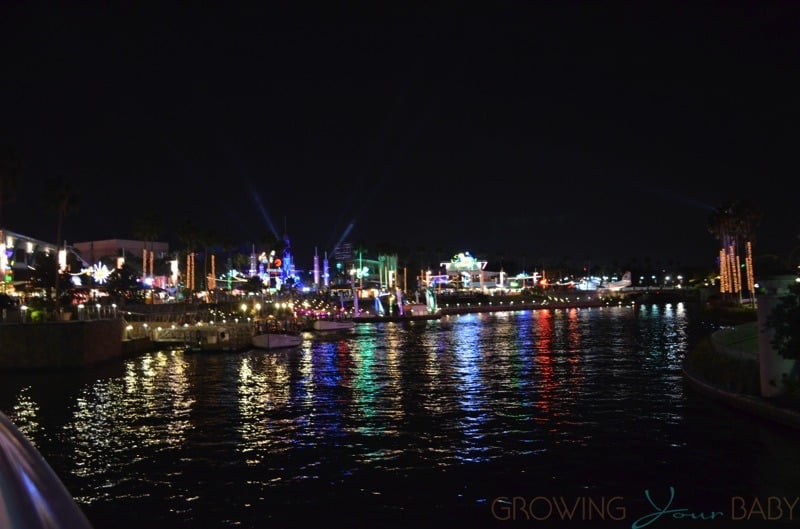 Back at the hotel, it was time to call it a night, but not before we hit the arcade.  Coincidentally you have to walk by it on your way to your room…
The next morning started out with a buffet breakfast in the Islands Dining Room.  Thankfully fussy and fussier were able to chose what they would like to eat, without having to settle on items they aren't fond of.  There is a huge selection of food here that will satisfy diners with all dietary preferences.  Oatmeal, grits, pancakes, waffles, bacon, sausage, a huge pastry table, fresh fruits and even an omelet station.
And because the kids normally finish before us we were grateful for the play room located off of the side of the dining room.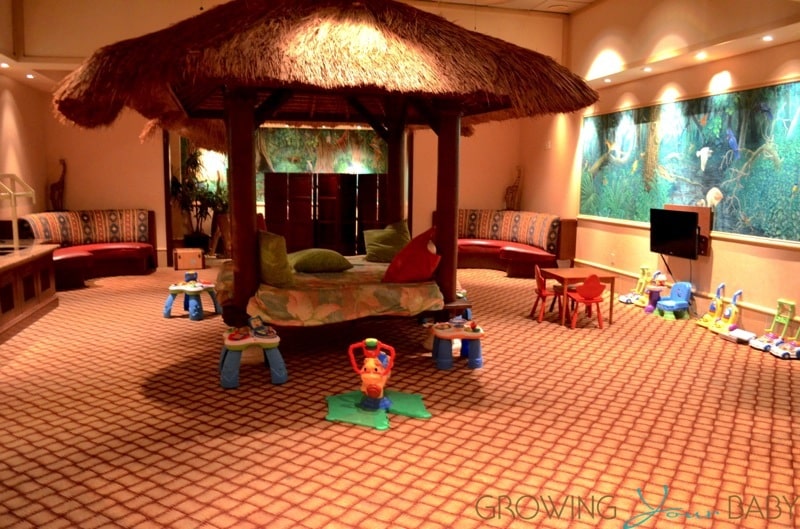 Loews has paired with Fisher-Price to fill their Keiki Kove with toys that little ones can play with while their parents enjoy their meal.  There are also tvs in this room playing movies and tables so that moms and dads can keep an eye on their brood.
With just one day to see the parks, we spent the next 8 hours hitting all the big attractions at Universal Studios and Islands of Adventures theme parks.   Back at the hotel to change quickly, we headed over to Portofino Bay and Resort to have dinner at Mamadellas Italian Restaurant.
There are a few perks that I was fond of that Loews and Universal Orlando offer to guests that are staying at the Royal Pacific Resort and visiting the theme parks.
Skip the lines with Universal ExpressSM Unlimited ride access* in both theme parks – a free benefit worth up to $89 per person, per day (valid theme park admission required).  When you check in you will
Early Park Admission to The Wizarding World of Harry Potter™ at Universal's Islands of Adventure® one hour before the theme park opens (valid theme park admission required).
Complimentary water taxi transportation along waterways or ride the shuttle bus directly to both theme parks and Universal CityWalk®.
Priority seating at select restaurants throughout both theme parks and enjoy first available seating at select Universal Orlando® and CityWalk® restaurants.
Complimentary delivery of merchandise purchased throughout the resort to your on-site hotel room.
Resort-wide charging privileges with your room key card. Use your hotel room key card to charge food and merchandise at Universal Orlando® locations where credit cards are accepted.
Complimentary scheduled transportation** to nearby Wet 'n Wild® water park, SeaWorld®, and Aquatica™
Universal Orlando® character dining with some of your favorite theme park characters. Have fun as they pose for pictures, sign autographs, and interact with everyone at your table.
For our next visit to Universal Orlando our plan is to stay 4 or 5 days in order to be able to fully experience everything they have to offer.  On this trip we found that two nights just wasn't enough.  The good part about this is that when you purchase park passes, the cost is significantly reduced when you add additional days.  U.S. and Canadian visitors can also take advantage of the 'buy two days and get the third for free' deal.  That cost is reduced again if you chose to only purchase single park passes, as opposed to the park to park admission, which allows you to go back and forth between Universal Studios and Islands of Adventure during the day.
*Thank you to Universal Orlando and Loews Resorts for hosting us for the two nights we stayed in Orlando!*[ad]