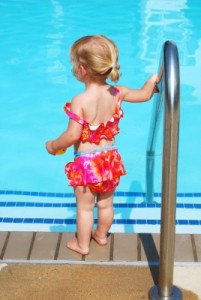 Experts say that it only takes twenty seconds for a toddler to drown, and the death toll in Canada is rising at an alarming rate.
On Wednesday an Ottawa two-year old boy was the sixth toddler to die of drowning in backyard pools since May of this year. Nationally, the death toll has risen from 194 in 2009 to 230 this year, and the time period that historically has the most number of drowning deaths has not yet passed.
According to Barbara Byers, the public education director of the Lifesaving Society, several factors make backyard pools dangerous for toddlers. Toddlers rarely have a fear of water, and are attracted to the glittering surface as the sun hits the water.
Once a toddler gets in the water, the weight of their heads makes it very difficult for them to get their bodies upright and their faces clear to breathe. Most parents never know their children are drowning. According to Byers,
"Other than the splash — and they're little, so it's not a big splash — you're not going to see it, you're not going to hear it."
Twenty seconds is all it takes for a toddler to go from being curious about the water to being beyond the point of being able to be saved.
The Red Cross cites that 38% of toddlers that drown do so in their own backyards. Beyers commented that "
Often what happens is the parents or caregivers think the child is in the family room playing, unbeknownst to them, another child or adult left the door unlocked and the child scoots out."
Even small wading pools made for toddlers are not safe unless an adult directly supervises the child, as toddlers can drown in just a few inches of water. If swimming pool fun is part of your end of summer plans, we urge you to read the water safety tips we recently posted. The majority of drowning incidents occur between mid-July and mid-October. Proper safety around water could keep your child from becoming a heartbreaking statistic. – Jill, Staff Writer
Related Articles:
---
[ad]