Medications should never be taken lightly, even those that are sold over the counter. Side effects exist, and there can be some serious consequences when too much is taken. This risk is even higher for young children and infants. One offender you might not have ever thought of?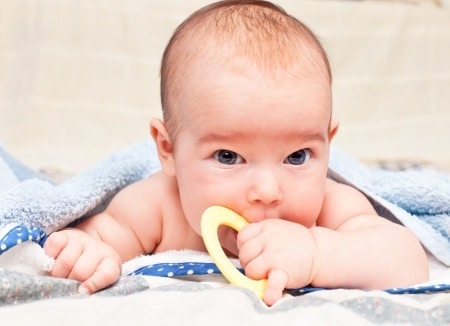 Over the counter teething gels and homeopathic teething remedies.
According to the Food and Drug Administration, teething gels like Anbesol, Hurricaine, Orajel, Baby Orajel, and Orabase all contain benzocaine – a drug very similar to viscous lidocaine, which is considered unsafe for children under the age of 2.
According to the Institute for Safe Medication Practices (ISMP) – a nonprofit organization dedicating to preventing medication errors – there have been many reports of teething babies overdosing on viscous lidocaine. Mild symptoms can include jitteriness, confusion, vision problems, vomiting, falling asleep too easily, shaking, and seizures.
There are also some rare but serious conditions that may result, including methemoglobinemia (a disorder in which the amount of oxygen carried through the bloodstream is greatly reduced) can be serious. In some cases, it can become fatal.
Michael R. Cohen, RPh, MS, ISMP president also says that the drug "can make swallowing difficult and increase the risk of choking and breathing in food. It can lead to drug toxicity and affect the heart and nervous system."
And because parents have been known to repeatedly apply viscous lidocaine if a baby continues fusing, the risks are real. Cohen says he's even heard of parents soaking a pacifier or cloth in the solution and then placing the item in the baby's mouth, making it impossible to even measure how much of the medication they're getting.
Instead, Ethan Hausman, M.D., a pediatrician and pathologist at the FDA says that parents should use non-drug, non-homeopathic treatments for teething.
"Teething is a normal phenomenon; all babies teethe," Hausman said on FDA.gov. "FDA does not recommend any sort of drug, herbal or homeopathic medication or therapy for teething in children."
Instead, parents can gently rub their baby's gums with their fingers to help soothe swollen or tender areas. Parents can also place a washcloth or teething ring in the refrigerator.
"The cool object acts like a very mild local anesthetic," Hari Cheryl Sachs, M.D., a pediatrician at FDA said on FDA.gov. "This is a great relief for children for a short time."
Parents should take care, however, to not place the washcloth or teething ring in the freezer. If the item is too cold, it can actually hurt the child. Children should also be monitored to ensure they do not choke or swallow any portion of the washcloth or teething ring.
Related Articles:
---
[ad]