The B-Ready is the newest stroller on the market that offers parents versatility along with style and function.  This luxury addition to the Britax line-up is perfect for first time parents who are planning to expand their family in the future or those who are expecting twins.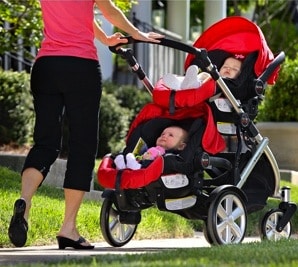 Of all of the strollers I have tested this stroller has gotten the most questions and comments. Strangers stop me everywhere and ask about every aspect of the stroller from the second seat to how it pushes.
The B-Ready has been one of my favorite strollers to test drive because it given me the freedom to go almost anywhere with both of my boys.
Installation:
Out of the box all I needed to do was pop on the wheels, rear mudguards and unfold the stroller.  Sorting through all of the accessories that are included with the stroller will take a few extra minutes, but within 15 minutes you can be out the door.
Features: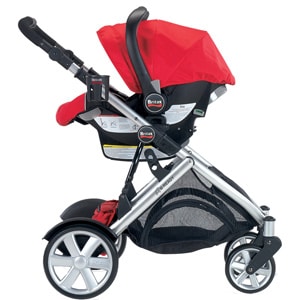 As a single, the B-Ready is a great stroller.  From birth, parents can use the included adapters to push the Britax Chaperone infant car seat on the frame.  For families who have a  Graco, Chicco or Peg Perego infant seat, an optional universal adapter is available .  Also available as an option is a bassinet for parents who want a more natural sleeping experience while out for their baby.
From 6 months to 55 lbs the B-Ready's reversible stroller seat features a no re-thread 5-point harness and an adjustable foot rest for your little rider.  To easily accommodate a sleepy baby, the whole seat reclines one handed from the back to 3 positions.
A huge canopy with a magnetic peek-a-boo window will keep your child shaded from the sun, while the included rain cover protects them from the rain or snow.
Storage:
For storage Britax includes a parent pack that, surprisingly, holds a lot of stuff.  There is space for 2 sippy's or bottles, your wallet, cell phone, snacks, keys and a camera.    Because you are not able to hang a diaper bag off the handle while your second child is in the lower seat this organizer is perfect for holding some of your must-haves.
Underneath the stroller is a huge basket that can hold a large diaper bag and a good days shopping if necessary.  With the second child in the basket, space is reduced but not limited.  I was still able to get 3 good sized shopping bags into the basket with not problem at all.  For your convenience Britax has added access zippers on each side and the front.  So even with your child in place, you can still get your stuff in and out easily.
Double Stroller:
As a double the B-Ready is a rock star!  Configurable in 14 positions, this stroller is able to accommodate almost any child combination including; twins, infant and toddler, pre-schooler and toddler.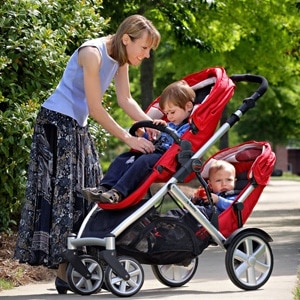 The problem I have when I am out with my boys is that they fight.  Regardless of what stroller I have them in, somehow they are still able to fight.  When they are 'stacked' in the B-Ready, not only can they not see each other, but they can't fight.  I love it!
And because both seats are a good size both boys are able to ride in both the front and back – happily.  They can both be reclined, they both have canopies and are both in 5-point- harnesses.
With the second seat on, the B-Ready weighs 35lbs.  Add 2 kids –  31lbs & 34lbs and one would think that pushing this stroller would be a workout, but it's not.  While it's not an effortless one-handed push, it is an easy two-handed one.  It turns nicely and is easy to manoeuver through crowds and tight spots – motility you don't normally get with a double.
To give it such a nice ride Britax uses 8″ front wheels and 11″ rear wheels on a 4-point suspension system.  The front wheels are swivel wheels that can be locked straight for bumpier terrain.   The rear wheels have mudguards which help keep the lower child clean on a rainy day and also prevent them from touching the wheels when they're moving.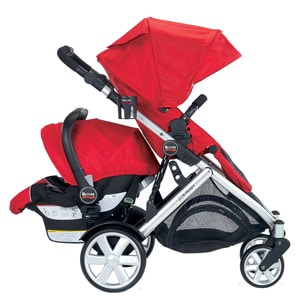 The brakes on this stroller are the best we have tested.  The one-step brake has a color coded indicator window that let's you know if the brake is on or off.  With both kids in the stroller and it sitting on a 45 degree incline, it did not move an inch when locked.  Also both grandparents were able to figure it out easily without any explanation.
To accommodate parents of different heights Britax uses a pivoting handlebar that adjusts to 4 positions as opposed to a telescopic one. Even though my husband and I have about a 6″ difference in height the 3rd position works perfectly for both of us.
Because the B-Ready has the footprint of a single but the capability to be a double it is our stroller of choice.  It has been the perfect choice for every event we've attended including busy Thursdays at the market, where pushing a double can get you some dirty looks.
Once folded it only takes up half of my truck leaving me room to store groceries and unlike other strollers in this market, it folds up with the second seat attached.  A feature I have appreciated on many of a rainy day.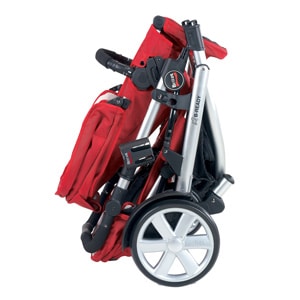 I highly recommend the B-Ready for any family looking for a reliable stroller.  It offers maximum comfort for your little rider, is a dream to push and can be expanded later if your family grows.  Priced at $499, it is in the luxury category, but worth every penny. The additional seat is $149 (includes Britax Chaperone Infant Seat adapters)
Included accessories: adult cup-holder, rain cover, Click & Go Britax Chaperone infant car seat adapters and removable storage bag with insulated drink holders.
Specs:
Stroller Weight – Single(28lbs) Double(35lbs)
Dimensions 30″l x 26.5″w x 45″h
folded – 30″l x 26.5″w x 16″h
Main seat from 6 months to 55 lbs
Second seat from 6 months to 35 lbs
*A Sample was provided for review – Thank you!*