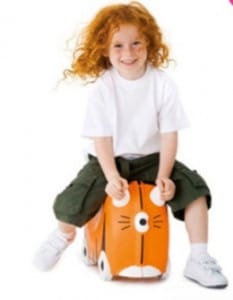 When we go away we now bring with us 4 suitcases, 2 strollers and 2 carry-ons – which is a lot for mom and dad to tote.
I have long waited for the day that my boys could bring their own stuff and it appears that time has come! Trunki offers kids a cool way to bring their own stuff and a place to sit (and ride) while waiting at the airport. This child-sized suitcase comes in a variety of friends including a tiger, ladybug, bee and dinosaur. It can also be customized with the included stickers to give it more personality.
Inside the suitcase one side has two handy elastic straps that you can fasten together to hold a blanket or belongings in place.  To keep it more organized we also have the Trunki Tote 3in1 which can be velcroed to the inside of the case or carried by your child once the board the plane.
Handles and a shoulder strap make it easy to carry for everyone and a set of 'horns' give your little traveler something to hold onto as they make their way through the airport.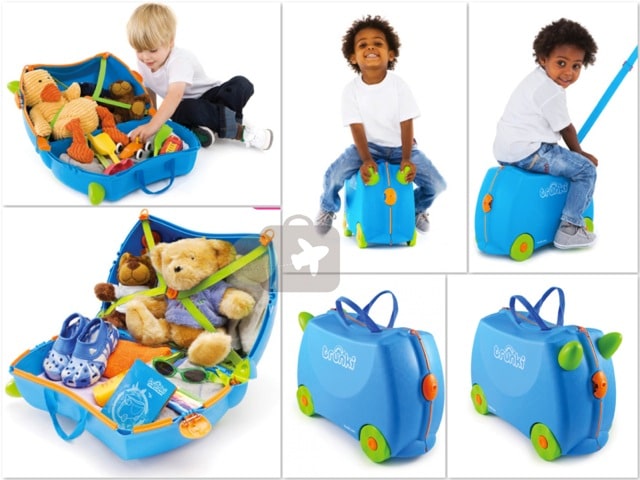 Perfect for bringing your child's must-haves anywhere, Trunki also fits in the overhead bin and weighs just 3.8 pounds so it's lightweight and ready to hold everything needed for a weekend at grandmas or trip down South.
I should mention that because it is just the size of a carry-on, it's not big enough to be the main suitcase.  It is, however, perfect for toting precious 'musts' like teddy, a blanket, games, books and anything else you little one will need while away from home.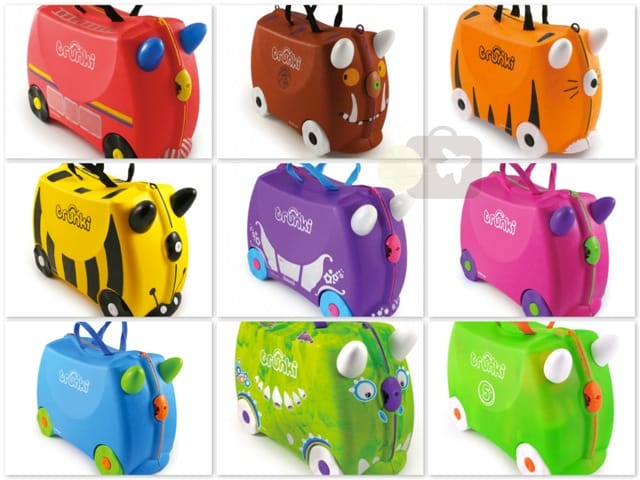 Specs:
Dimensions: 18″ x 8″ x 12.5″
Weighs:3.8 pounds
Max Weight(your child): 50lbs
Not recommended as checked baggage
perfect size for children aged around 3-6
Related Articles:
---