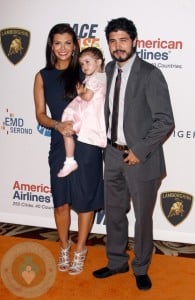 Congratulations to Ali Landry and her husband Alejandro Monteverde on the safe arrival of their second child – a boy!
Marcelo Alejandro arrived on Saturday (October 8th) weighing 8 lbs and measuring 21 inches long.
On Friday the actress told WetPaint.com she was doing some last minute preparations for the baby's arrival as he was 'due any second.'
"I actually just got back from the doctor and I'm already two centimeters dilated. So, yeah, I am due any second and my mother's coming to town tonight, so I'm doing all the last minute preparations. I'm going to the grocery store, I'm making sure I have everything we need and all that good stuff. [Laughing] Fun times!"
The couple knew the baby's gender before his arrival but were keeping it a surprise from their family.
"We've decided to keep it a surprise for them, so we haven't said anything publicly. And we will let everyone know very, very soon."
The new baby joins the couple's 4-year-old daughter Estela.
---
Related Articles:
{Palmers, FAME & WENN}
---
[ad]