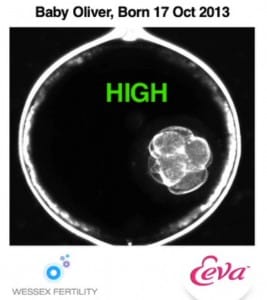 Oliver Lush-Camps is more than just a miracle to his parents, Katy and Jonathon; he's a miracle to science. Born with the help of the Wessex Fertility Clinic, little Oliver is the first baby to be born using the ground-breaking time-lapse photo technology, Eeva (Early Embryo Viability Assessment).
In conventional IVF, clinicians remove embryos from the incubator and examine them via microscope. They must determine which embryos are healthiest based on those examinations, which take place over about five or six days. Doctors only receive one 'snapshot' in time for each examination.
In contrast, Eeva takes time-lapse photos of the embryo, right from the incubator, during each and every cell division. Computer software helps weed out embryos that are dividing abnormally at any given stage, and the non-invasive selection process drastically reduced the embryo's exposure to the real world.
"New time-lapse imaging techniques are set to revolutionize the field of embryology," Hannah Marsden, embryologist from the Hewitt Family Care Centere in Liverpool told Medical News Today after one of the pilot studies on Eeva. "They allow us to study embryo development non-invasively, in detail and more quickly compared to earlier methods."
When Katy and Jonathon learned that they only had a one percent chance of conceiving a baby naturally, this new and revolutionary method is the one they turned to. "I always wanted to have children and children and never imagined there would be any problems getting pregnant," Katy told Daily Echo. "After we were told we wouldn't be able to conceive naturally, we embarked on the IVF journey, which I now know is not an easy route to take."
Being residents of Barton on the Sea, they were able to take advantage of the £800 technology at the Wesesx Fertility Clinic. As difficult as the journey may have been, Katy and Jonathon say they wouldn't have done it any other way.
"Now that our little Oliver is here with us, we are so thankful. Oliver is the cutest little boy ever," Katy said about their 7 pound, 4 ounce baby boy. "He is a little pickle at times but on the whole is a good boy and very much loved. He really is our little miracle."
But Katy and Jonathon aren't the only ones excited about little Oliver's birth. Doctors at Wessex Fertility Clinic are ecstatic that they were able to use the technology and help the couple give birth to their very first child.
"The main advantage of this technology is that we are able to identify embryos which have an extremely low chance of advanced development, and these can be excluded from the use in treatment," Tony Price, Embryology manager at Wessex Fertility told Daily Echo. "At Wessex Fertility, we strive to offer our patients the latest innovations in IVF and the best possible outcomes. I am very happy for baby Oliver's parents and proud of what Wessex Fertility has achieved."
Related Articles:
---
[ad]