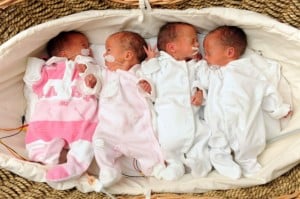 The adorable Kelly quads made history in Britain just one week before New Year's Eve by being the first quads made of two pairs of identical twins.
The four tiny girls, Heidi, Annabelle, Hannah and Jessica, arrived by c-section at only 31.5 weeks. Yet their premature age has not hindered them from gaining fame across the country. The girls are breathing on their own and seem to be healthy, though doctors are keeping them in hospital care until they are more mature. At birth Heidi and Annabelle each weighed 3lb 3oz, Hannah was 2lb 11oz, and Jessica 2lb 10oz.
Parents Sean and Lisa Kelly used IVF to conceive the quadruplets. Even though the couple's first son Cameron was conceived naturally, Lisa's natural cycle never returned afterwards, something doctors couldn't explain.
After trying many fertility medications without success they finally turned to IVF in efforts to have another child. On their third IVF attempt two embryos were implanted. Lisa says she felt pregnancy symptoms almost immediately. Parents who use IVF are 20 times more likely to have multiples during pregnancy. Most twins, however, are non-identical and a result of 2 embryos being implanted. The Kelly quads are the result of each of the embryos splitting into a pair of identical twins. Quadruplets are still rare, mostly because fetal reduction is often encouraged for cases such as this. Few hospitals are capable of caring for pregnancies such as this. Lisa and Sean Kelly said they had felt a lot of pressure to reduce the quads to triplets or twins.
But while Sean and I were not determined to have four babies at any cost, we agreed that, unless someone could give us a proper medical reason, we'd give them all the best chance of life.
In 2008 a set of identical twin pair quads was born in Nova Scotia. These type of quads are still extremely rare. – Summer, staff writer
Related Articles:
---
[ad]