Long touted as a must for visual and cognitive development of the baby, a new study has found fish oil supplements during your pregnancy won't make your child any smarter.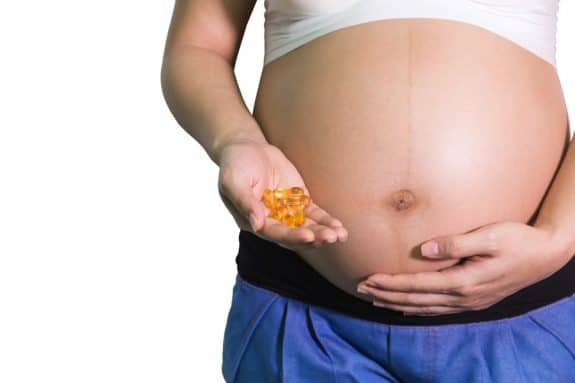 The results for subjects who used supplements containing DHA were compared to those who took a placebo, all during the second half of the pregnancy.
Lead study author Jacqueline Gould says that the take-away is that "Child intelligence or IQ was not affected by fish oil." Gould is a postdoctoral research fellow at North Adelaide's South Australian Health and Medical Institute.
DHA is an essential omega-3 fatty acid found in fish like salmon, tuna and trout. It's also available in fish oil supplements. DHA is important for brain development and function. Nutritional experts say DHA is not deficient in all populations, so for someone with adequate intake increasing their DHA during pregnancy might not show benefits.
But emerging data shows other benefits – besides IQ – of DHA. Gould's own research has shown that supplementing DHA during pregnancy sharply reduces preterm births. And Dutch researchers recently reported that taking a DHA supplement during pregnancy may help reduce a child's risk of developing asthma by up to 30%.
In this new research, Gould's team examined the effect of DHA supplementation on children's intelligence at age 7 by following kids born to women randomly assigned to take either 800 milligrams of DHA or a placebo daily during the last half of their pregnancy. They then tested cognitive, language and motor development of the children at 18 months and again at age 7.
More than 540 children were involved in the study, with both groups having average IQ's. There was no difference between the control groups.
Several prenatal vitamins and minerals have been thought to benefit a child's brain development, but those claims have yet to be scientifically proven.
A spokesperson for the Council for Responsible Nutrition, a supplement trade association, disagrees with the findings. Duffy MacKay, the council's senior vice-president of scientific and regulatory affairs says "We must take into account the limitations hindering this study. We do not know the overall nutritional status of the women or children involved." MacKay also says that researchers did not consider income and educational levels of the study group, which "might have an effect on intelligence and academic skills."
The study was published March 21 in the Journal of the American Medical Association.
---
[ad]