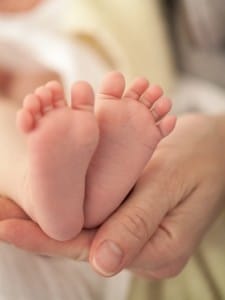 Arriving a week before his due date, Isaiah Lawrence Johnson surprised many, including doctors who say the infant may be the biggest baby ever born at Gainesville's UF Shands Hospital.
On Friday morning Nicia McNelley became a mom for the third time when she gave birth to baby Isaiah. Despite being a little early, the newborn weighed a robust 14 pounds 7.6 ounces, measuring 22 1/2 inches long.
There is no word whether hospital staff knew the baby would be bigger than average. Thankfully Isaiah's birth was a c-section because he would have likely gotten stuck.
"It seems like it took them forever to get him out," Nicia told Gainesville.com after the baby's birth.
The hospital says mom and baby are doing well and are expected to be discharged today, just in time for Christmas.
Baby Isaiah outweighed Joel Brandon Jr, who was thought to be the biggest baby born in the U.S. in 2013 when he arrived just before Halloween weighing 14lbs even! Both were outdone, however, by George King, the UK baby who shocked everyone when he was born weighing 15lbs 7ozs back in May!
---
[ad]