When it comes it serving healthy foods to our kids, there is no denying breakfast cereals pose one of the biggest challenges. From high levels of sugar, artificial flavorings and colors – there aren't a lot of truly healthy options that kids ask for. But that is about to change for cereal giant General Mills, maker of Trix, Lucky Charms, Cinnamon Toast Crunch and Reese's Puffs. In a statement today the company revealed that by 2016 their line of popular cereals will be artificial flavor and color free. The change, they say, affects about 40 percent of their cereals over the next two to three years. Currently, about 60 percent of their cereals already are free of artificial flavors or colors from artificial sources.  They are aiming for 75 percent by January – including Reese's Puffs and Trix – and 90 percent by the end of 2016, giving their product developers time to make sure they look and taste great.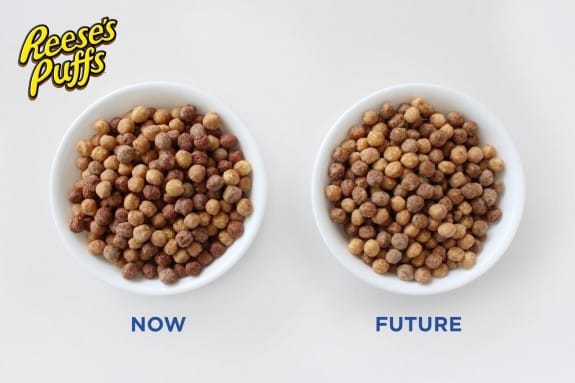 Because each cereal requires different changes, products that contain marshmallows, like Lucky Charms and our Monster cereals, may take longer to complete the changes.
"We're simply listening to consumers and these ingredients are not what people are looking for in their cereal today," says Jim Murphy, president of our Cereal division.
Jim says the goal is to match the taste that consumers love, with little to no visible change to the color for most of the cereals we're reformulating. Some, like Trix, will look a bit different as they remove colors from artificial sources.
And what will those flavors be? For cereals like Trix, they will be using fruit and vegetable juice and spice extracts for color. In Reese's Puffs, they will use flavors like natural vanilla.
"With our consumers, it reached a tipping point in the last couple of years with the trend toward simpler food," says Jim. "I remember the meeting where we all looked at each other and said 'We're just done with these, we're going to do the whole line.'"
"In the case of Trix, we looked at a wide range of fruits, vegetables and spices in different combinations trying to get the desired color," Kate Gallager, research and development manager for Cereal explained. "But we also worked to make a cereal that would not impart extra flavors that we weren't looking for. Where we've landed, is using a pretty broad array of fruit and vegetable concentrates to make up those red and purple colors."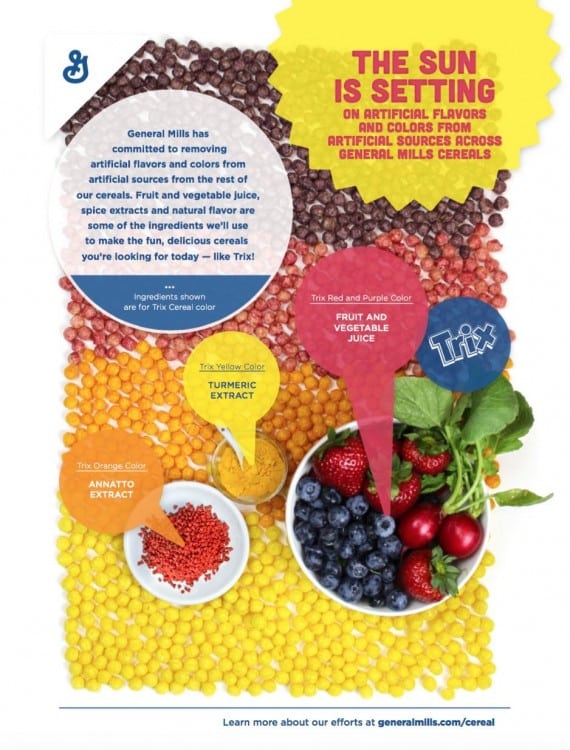 "It's about making cereal that tastes great and still delivers on what it was before we made the changes, or make it even better," she added.
---
[ad]