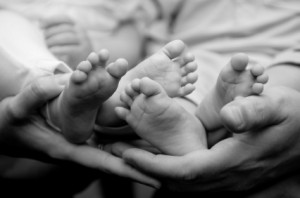 Susie Kozisek looks contently at her daughter and son-in-law as they hold their newborn twins. The grandmother can't express how happy she is, that she decided to share her womb and bring to the world her granddaughters.
Susie, 53, mother of four children ages 20 to 30, gave birth to the healthy twins Hallee and Hadlee on July 15 via C-section.
It is the second time that the grandmother chose to be a gestational carrier for her daughter Ashley and her husband Jay Larkin's babies. In 2011 she had also given birth to their oldest daughter Harper, who is now two years old.
"It means the world to me," Kozisek told the GlobeGazette. "I just wanted them to have the chance to be parents. They're very good at it."
28 year old Ashley has pulmonary hypertension and cannot give birth. But thanks to her mother, she now is mom to three beautiful daughters.
"They are miracles," said Ashley, cradling Hadlee, who weighed 6 pounds at birth. "They're good babies, too. They're content to sleep a lot."
It was Susie who has decided to be the gestational carrier for both pregnancies. In these cases, the eggs and sperm come from the intended parents and are united through in vitro fertilization and the resulting embryo is transferred to the carrier's uterus.
The embryos for the twins, had been kept in in storage since they were fertilized in October 2010 at the Mayo Clinic. They were implanted in Susie's uterus in November 2012 when she was 52 years old after her gynaecologist gave the go ahead.
"I just felt really privileged and honored to be able to help," Susie said. "I think everybody would do whatever they can do for their children."
Working as a legal secretary in Clear Lake until the week before the twins were born, Susie remained healthy throughout her pregnancy with no complications.
Her husband Butch was a little apprehensive initially with her carrying the twins, but soon was convinced and is very very proud, Susie told the media.
Jay, the new father can't describe his happiness. His parents Barb and Glen Juhl of Garner he says are very excited to have two more additions to the family and very grateful.
"They're kind of in awe of the whole thing," said Jay
This is one special grandma-granddaughter bond that Susie has created.
---
[ad]