It will be a French Christmas for actors Halle Berry and Olivier Martinez! After arriving earlier that day, the couple was photographed out for a stroll in Paris with their son Maceo.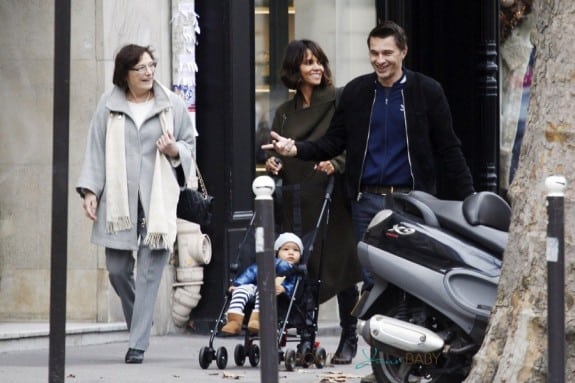 Halle pushed her son in a Maclaren Globetrotter stroller.  The little cutie was bundled up against the cold in a puffy jacket, knitted cap and Uggs as he took in the sights in the French capital.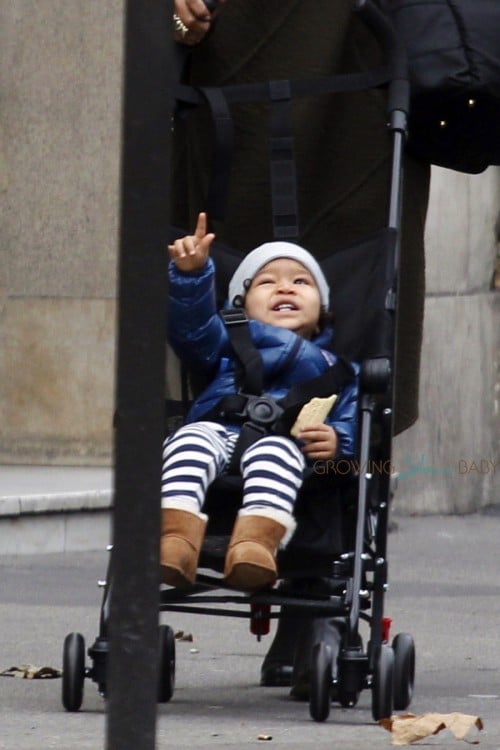 During a recent appearance on The Ellen DeGeneres Show Halle called Maceo her miracle baby. Not planning to marry or having another other kids, she got both last year.
"I didn't think it was possible at my age," Halle explained to Ellen.
After the host joked that she must be 60, Halle noted that the term they use for women who get pregnant late in life, wasn't far off… "They call it a geriatric pregnancy."
Following some joking back and forth about Halle's age, which is 47, the actress revealed that because she was pre menopausal it really was a miracle that she was able to become pregnant.
But now that she has a boy and a girl, six-year-old Nahla, she reveals that there are some differences between the two – most notably in the way they nurse.
"When I would put Nahla on the boob, she would go 'suck, suck, suck'(with a dainty face) – a nice little girly suck. With him it's like 'chomp, chomp, chomp'(with a monster face). He's like sucking the life out of me! So I see the difference between boys and girls.
Watch the video below to see the full interview:
{INFPHOTO.COM}
---
[ad]