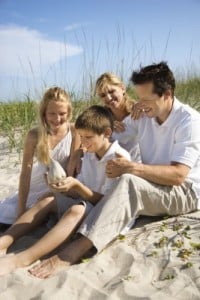 Homeschooling is a growing trend in America, and not for the reasons that many would assume. No longer the realm of the uber-religious and cloistered away, homeschooling has given ordinary families the freedom to travel without predefined schedules.
When my own family began homeschooling, the freedom it afforded was a huge benefit. We would vacation when it was convenient to us, rather than according to the school's schedule. We could also schedule learning into what we needed. Even now, as myself and my children are preparing to move to a new state, I know that their education does not have to be disrupted or missed.
According to TODAYshow.com, many other families are also choosing to homeschool so that they can travel and explore the world around them. Families are visiting other countries, having adventures, and experiencing as much of the world as possible without leaving the children behind.
"I really like our lifestyle!" said Niall Gifford, the 11-year-old from the Seattle area who is sailing across the Pacific to Australia on a 47-foot sloop with his mom, dad and two younger sisters. "We'll do a little bit of school in the morning, or maybe we'll go for a snorkel and then do a science lesson … I'd say I'm learning more than I did in school at home. I do think home- schooling is a very neat opportunity."
Homeschooling not only allows families to travel and explore more, it also allows them more family time. The education can be done by the entire family, giving both parents a chance to connect with their children. Because homeschooling does not have to resemble the typical school classroom experience, it can also become a fun experience.
"I was looking to recapture my relationship with my two daughters," said Toni Farmer, 41, a New Jersey mom who started home-schooling her 12-year-old twin girls last year. "I could see it slipping away as they spent eight hours a day with teachers and friends. Our time together was squeezed into a few hours in the evening. … There was no time to just enjoy their company."
According to Brian D. Ray, founder of the National Home Education Research Institute, there are about 2 million children and teens being homeschooled in the US. In 2003, 20 percent of parents said they chose to home-school their kids for "other reasons" that included "family time" and "travel," in 2007 that number has risen to 32 percent. Many families are choosing the freedom of homeschooling because it works better for their families. – Summer, staff writer
Related Articles: