Since her debut in 2012 Sofia, The First has been one of Disney Junior's most popular shows. A little girl who becomes a princess when her mom marries the King, Sofia is a bit of a 'people's princess', because she struggles with the formalities of royalty. But this is what makes her so loveable. She is sweet, kind, and practical – just like the average little girl.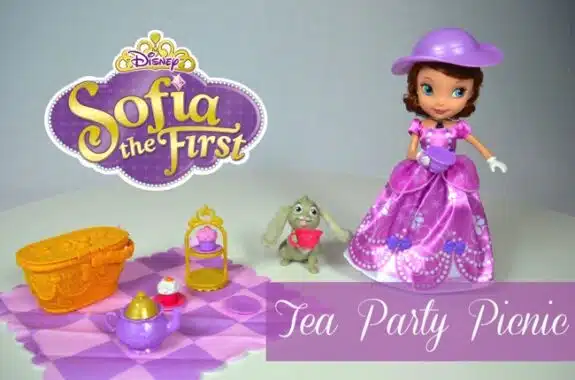 For Fall Mattel has introduced a playset that is perfect for little fans. The Sofia The First Tea Party Picnic set comes with a bunch of cute accessories to create the perfect soiree.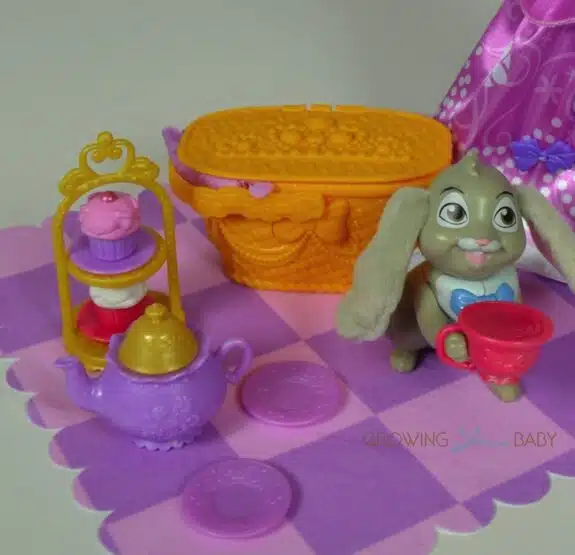 Dressed in her signature purple satin gown, Sofia also has with a removable hat and tea cup. She is joined by her trusty rabbit Clover, who holds a second tea cup. The set includes some cupcakes, two plates, a dessert stand, blanket and basket.
The doll stands(not independently) about 10″ high and she is wearing a beautiful patterned dress with two plastic ribbon details sewn into it. She is wearing white gloves and comes with a cup attached to her hand. Parents can remove the cup, but I chose to leave it so it wasn't misplaced. Her hair is much like doll hair, but it appears to be more molded and finished with a fixing solution that keeps her buns intact. I like this because dolls can really lose their luster if their hair starts to look straggly.Having it more permanent keeps her looking pretty – even through play.
This doll is rated for little ones 3+ likely because she has shoes that are removable and smaller pieces that could be choking hazards for kids younger than three.
To complete the party Clover has fuzzy ears and his head moves. He also has a tea cup fixed to his hand.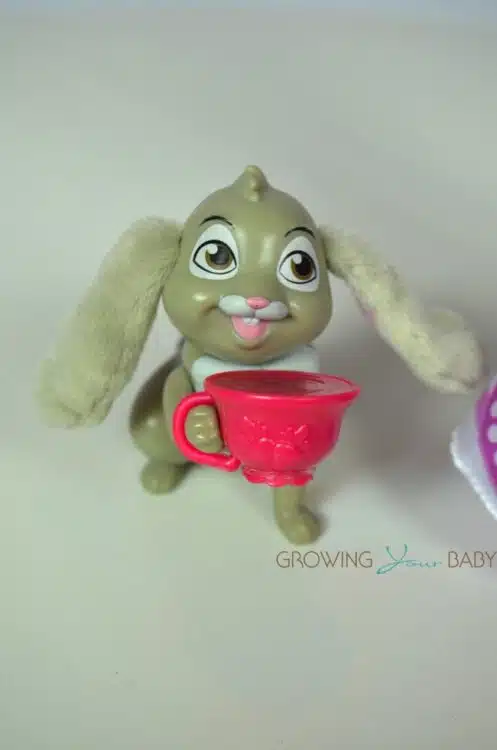 But what makes this set so cute is the fact that Sofia is pre-programmed with 40 phrases that create a bit of a conversation between her and clover, and her and the other guests.
She says things like,
'Do you know how to pour a cup of tea?'
'[laughs] soo fun!'
'I'm so glad you're my friend.'
'Let's play a game together!'
'Who should we invite to our tea party picnic?'
Kids are able to get Sofia to talk two ways; by pressing her amulet or by putting the tea cup or cupcakes close to her mouth.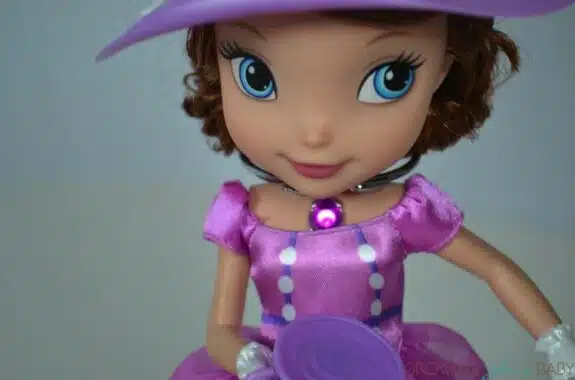 Her phrases do differ depending upon which way you activate her and she appears to know the difference between her tea cup and Clovers because she speaks to him specifically when his cup is placed close to her mouth.
To see more please watch our video below!
---