I am at a loss for words about the number of children who have been mistakenly left in their parents vehicles this summer.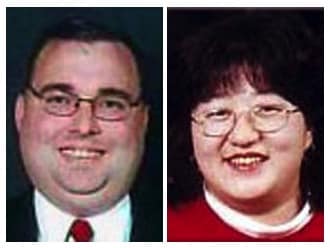 It feels like everyday I read another story about a small child who has either lost their life or has been hospitalized after being left for hours.
15-month-old Cassandra Starr died after she was left inside a van for nearly three hours when her family returned home from church services Sunday afternoon.
The family of six — including four children — had returned about 1 p.m. after attending services at Mt. Zion Baptist Church in Brogue, Chanceford Township, where the victim's father, Chris Starr(photographed, left), is the associate pastor, York County Coroner Barry Bloss said.
Cassandra's mother, Jenny (photographed, left), had taken the oldest three children — ages 4, 5 and 7 — into the home and asked the father to help unload some bags and get the baby,
"Unfortunately, the father forgot," Bloss said.
Jenny thought that the baby was sleeping, until 7-year-old sibling noticed the baby was not inside her crib.
The mother immediately ran to the van where the baby was found, Bloss said. The mother called 911 for help, and there were attempts to revive the baby but they were "too late," Bill Johnson, Jenny Starr's father said.
Everytime I read a story like this I am at a loss for words. I cannot imagine forgetting my son in the car, at the airport or anywhere for the matter.
Related Articles: