Twin bonding has been well documented for many years, but identical twins often share a connection much stronger than fraternal twins.  A pair of identical twins in Ohio took that connection to the next level last week by having their babies on the same day!
Due two weeks apart,  Aimee Nelson, 19, and her identical twin Ashlee, 19, but both went into labor on Monday and ended up giving birth two hours apart at Summa Akron City Hospital.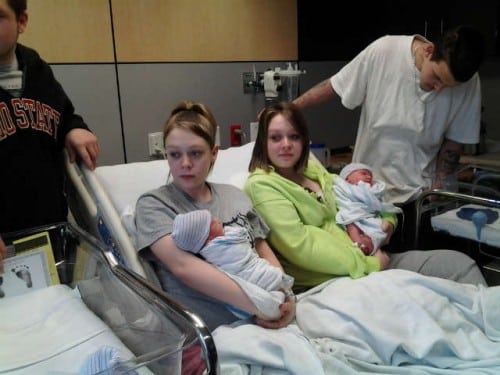 The girl's mom Marcella Farson, said Aimee and Ashlee didn't plan same-day births and were not raised to do things alike.
Asked if she ever dressed them alike as girls, Marcella told Ohio.com
"Only when they were little. When they got to their individuality stage, I allowed them to do what they wanted — and they did for the most part. But the funny part is that nine times out of 10, one would come home with one thing purple and the other one would do the same thing but pink."
This continued during the girls pregnancy.
"Within the past two months, me being the mother, I would get a whiny phone call in the middle of the night on what's going on and I would hang the phone up and literally five minutes later I would have the other one crying."
On Monday Aimee called at 4 a.m. to say she was headed to the hospital and Ashlee called with the same news two hours later.
Donavyn Scott Bratten, Aimee's son arrived at 12:11pm weighing 7 pounds, 2½ ounces and measured 21 inches long, while Ashlee's little guy Aiden Lee Alan Dilts weighed 8 pounds, 12 ounces and measured 22½ inches long at 2:03pm.
"The hospital staff said they've never had such a situation," says Jennifer Nelson, Aimee and Ashlee's aunt. "We just thought others might find it interesting also – especially other twins and their families."
In July another pair of identical twins Zaakira Mitchell and Shaakira White welcomed their babies just an hour apart.
---
[ad]