Ikea's Swedish agency Åkestam Holst, is at it again, and this time they have created a genius campaign that offers parents to be a strong discount on one of their cribs! There is one twist – you must prove you're expecting by peeing on their ad.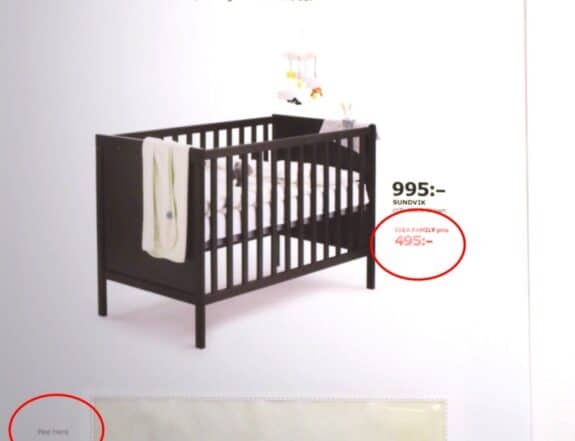 Sound a bit gross?  It kind of is – but on the upside – it's a free pregnancy test!  And let's be honest.  They can be expensive.
The ad, which is running in Amelia magazine, was created in collaboration with Mercene Labs.  They say,
"In order to make the interactive functions of this ad work in reality, we had to make several technical advancements. The pregnancy test strip was used as a starting point, which relies on antibodies that bind to the pregnancy hormone hCG, resulting in a color change. For scaling up of this technique and adopting it to the physical format of a printed ad, Mercene Labs has used their experience in development of surface active materials for microfluidics and medical diagnostics. Careful selection of materials, together with a controlled capillary flow have been crucial for the success of this project. Technical advancements made during the work with this campaign have the potential to improve medical diagnostics."
The ad is quite innovative in that it reveals a discounted price under the original price if a pregnancy positive is found.  Dubbed the "Ikea Family Price' parents-to-be could see a 50% discount off the price of a the company's Sundvik crib.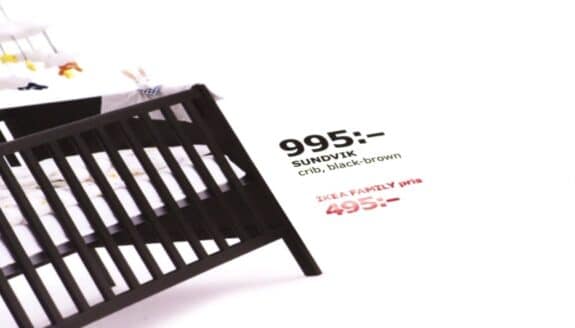 Already one of the most economical options on the market, the Sundvik retails for just $119.00US. It can be adjusted to two heights and converts into a toddler bed as your child gets older.  It comes in 3 colors and can be assembled in under 30 minutes!