Quinny has been long know as a brand that offers fashion forward designs through their partnerships with famous designers. In November they announced their Q Design Collection, a line created with a geometric fabric which combines color, design and urban culture into one. Taking that to the next level Quinny and Maxi Cosi have revealed a special collection designed by iconic pop artist Romero Britto.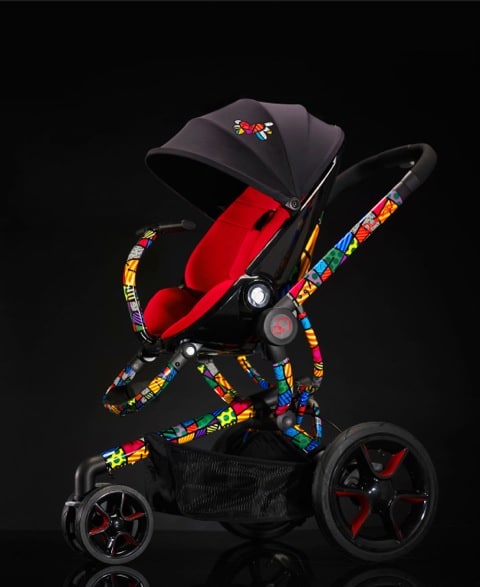 With most collaborations, gear companies normally work with their selected designer to create unique fabrics and coverings for their strollers. In this case Romero switched it up, leaving the fabrics mostly solid, and transformed the frame and carry handle of the infant seat into pieces of art. In addition, Romero's use of red accents in the wheels gives the stroller an edgier look.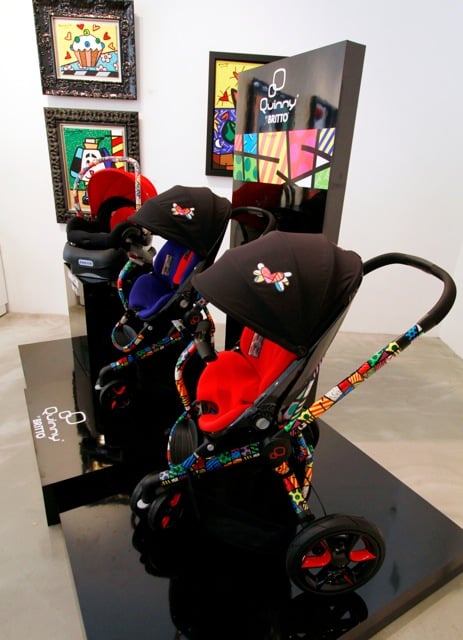 "Quinny and Maxi-Cosi have always been known for their trend setting style and innovative sophisticated design. Romero's artwork has elevated stand out design to a whole new level. This unique new collection features his artwork in a way never before seen in the stroller and car seat categories," said Dan Pennacchio, General Manager of international Brands at Dorel Juvenile Group. "In partnership with Quinny and Maxi-Cosi, Britto brings his commanding compositions to our top of the line products to help parents express their style, while his visual language helps us bring hope and happiness to families around the world through this special collection of products."
All on its own the Quinny Moodd is the perfect combination of style and function. This new design gives the stroller a modish look for trendy moms are looking for something unique.
Romero Britto is a Brazilian-American Neo-pop artist, painter, serigrapher, and sculptor. He combines elements of cubism, pop art and graffiti painting in his work. Over the last 10 years his work has lent itself to many collaborations with internationally recognized brands, now expanding to the juvenile products category with a collaboration with Quinny and Maxi-Cosi. Many of his pieces can be found in galleries and museums in over 100 countries, including the Salon Nationale des Beaux-Arts exhibition at the Carrousel du Louvre in 2008 and 2010. He has also created public art installations for the O2 Dome (Berlin), Hyde Park (London), John F. Kennedy Airport (New York), and Cirque du Soleil at Super Bowl XLI.
"Through my art I hope to inspire warmth, creativity and happiness. The Quinny and Maxi-Cosi brands are a perfect marriage to further spread optimism and happiness reaching even the youngest children," said Romero Britto. "Through this partnership we are able to deliver inspiring designs to moms, dads and children around the world."
---