She was the size of a pen when she was born and weighed less than a pound at just 420 g. But the tiniest miracle born in Ireland Sive McDonald is home now, thriving with her parents.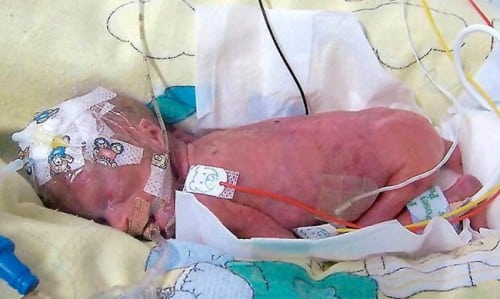 Aisling McDonald and her husband, John met in Australia and were married in Ireland, where they were both raised. When Aisling was expecting the couple's first child this summer, they were naturally very happy.
But doctors were a bit worried about Aisling's condition during pregnancy because she was continuously suffering from high blood pressure. Her body was under pressure and doctors feared her life was in danger and could have a stroke.
John recalls,
"It all happened really quick. We were brought from St Luke's Hospital in Kilkenny to Waterford Regional Hospital where there is a special baby unit.They were giving us no hope, to be honest. They gave us a room to stay in by ourselves and were really supportive. There was a priest there all the time and we were facing the worst-case scenario."
The doctors also told him that they were doing the best they could for the baby but the mother was the priority. Finally, on June 11 baby Sive was born 16 weeks early smaller than the palms of her dad's hand. The medics already gave 'no hope' for the baby.
Aisling and John had just become parents to a premature baby and admit that initially, they were 'naïve'.
"We thought she'd be three or four pounds. But we didn't realise she'd be less than a pound, and the dangers if her limbs weren't formed properly. We were told babies don't survive outside the womb unless they are more than 24 weeks. Sive was 23 weeks and five days."

Dr. Paul McMahon the doctor who was looking after baby Sive had another problem. He could not see the microscopic veins of the tiny child. Finally he got specially ordered spectacles from the US to locate the veins.
"At one stage the doctor was trying to get food into her but her veins were so small," said Johns. "Every time they'd get a needle in, the vein was bursting, it wasn't strong enough. She hadn't been fed at one stage for five, six, seven hours. Dr McMahon finally got a vein and she was able to feed."
But against the sad predictions about her survival the miracle baby began to show signs of life and came home a month before Christmas
"We still can't believe it. We brought her home to Kilkenny a month before Christmas and she is 9lb 6oz now. She's the equivalent of two months old. Her eyes are perfect, her ears are clear and she's responsive for two months."
Her thankful parents are now sharing their story to remind other parents of preemies to be hopeful.
John says,
"We are doing up a poster for the wall of the special baby unit to show how Sive survived. She's the best. We feel like the luckiest people alive."
– Atula, Staff Writer
Related Articles: