The media coverage surrounding UK reality star Jade Goody's cancer diagnosis has helped increase the number of women coming forward for cervical screening in Edinburgh.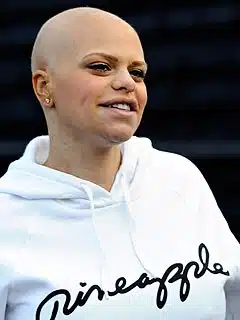 The latest figures show a 30% increase in the number of women taking PAP tests compared to the previous year.
All of the publicity has sent the message to women that early diagnosis and treatment could help save their lives.
A NHS lab has revealed that they processed 41,677 tests from May and October 2008, compared to 32,095 for May to October 2007.
Dr Sue Payne, NHS Lothian public health consultant, said:
"It is hard to be definitive about why more women are accepting our invitation to attend for cervical screening.

"The media coverage of Jade Goody's tragic illness may have been a factor, as perhaps has been our work with specific GP practices with lower participation rates and the HPV vaccination campaign.

"I would urge all women invited to take part in the programme to do so. If we find a problem early, treatment can be less radical and more successful than if the issue is detected at a later stage."
After having most of her cancer journey play out in the public eye, Jade has now returned home to spend her final days with "all those who are close to her".
In order to deal with the pain, the star has a round-the-clock epidural that will be topped up by a nurse.
My heart goes out to her boys. Even at this age, I don't know what I would do without my mom.
---