Actress/Singer Jennifer Lopez stars alongside her two-year-old twins, Max and Emme, as they made their modeling debut today in Gucci's new campaign to launch it' s kidswear collection.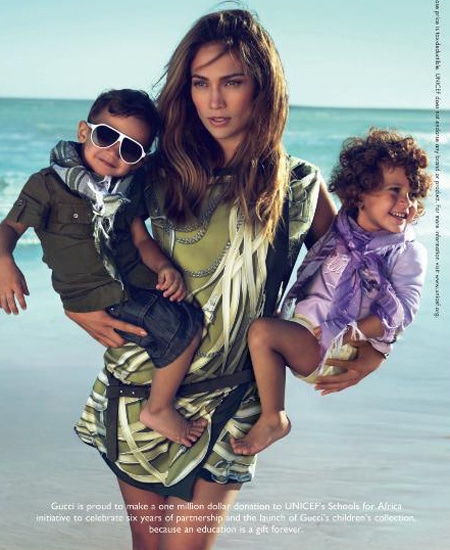 Designed by creative director Frida Giannini, the luxury kid's collection (sizes 2-8) includes practical pieces such as jeans, tees and coats, as well as slip-on shoes and rain boots emblazoned with the brand's iconic logo.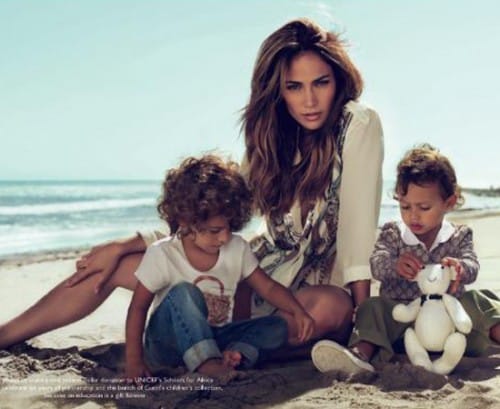 It will hit stores on November 20 and in honour of the international launch, Gucci is pledging $1 million to UNICEF's Schools For Africa initiative.  They are also donating $50,000 to Jennifer's charity the Maribel Institute.
Initially Jennifer and Marc Anthony were hesitant to involve the twins in the campaign until they were touched by Frida's personal plight to improve living and education standards for the most disadvantaged children in Africa.
'As a mother, I am proud to be a part of this campaign to benefit UNICEF's Schools For Africa programme,' said Jennifer.
Also look for Gucci to introduce their baby collection (sizes 0-2) this Spring 2011.  It will include bibs, blankets, rompers and onesies.
Related Articles: