In a period of a couple weeks life has gotten very exciting for celebrity trainer Jillian Michaels and her partner Heidi Rhoades(pictured below in February)!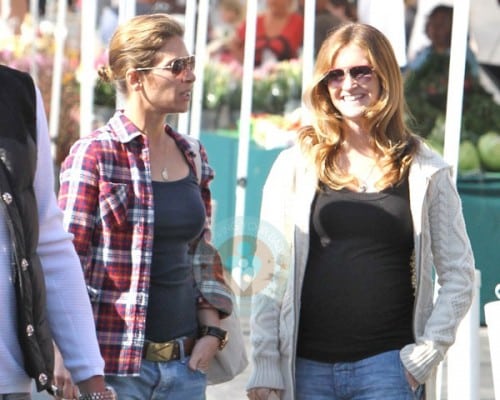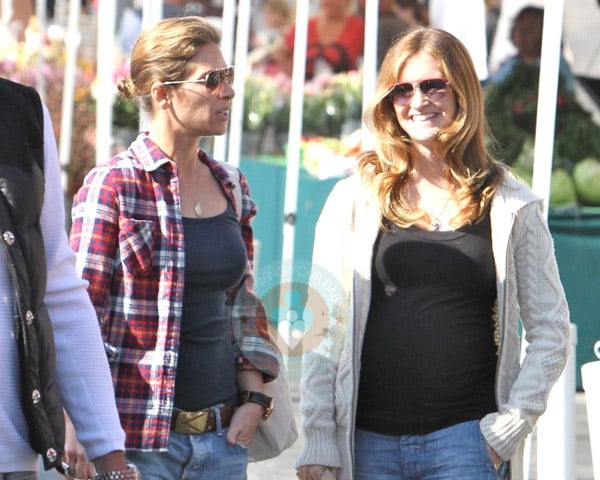 The pair announced today that they are now moms to 2-year-old daughter, Lukensia – whom they recently adopted from Haiti and a newborn son, Phoenix, that Heidi gave birth to on May 3 in Los Angeles!
"We're swimming in babies over here," Jillian 38, told People Magazine.
During the at-home interview with People, Jillian talked about her two year journey to adopt Lukensia and the incredible 'twist of fate', when Heidi welcomed their son the same week they finally brought their daughter home.
The instant family means things are busy for the new moms, but Jillian says she wouldn't have it any other way.
"I don't even answer email. I don't have time to care about anything else," she notes. "I want to be really present and enjoy all the nuances of their growth and development. I don't want to rush any of it."
It had been previously reported that Jillian was in the final stages of adopting a baby from the Republic of Congo.  But in December the fitness guru revealed to Access Hollywood that she had been matched with a little girl in Haiti after her extensive search for a child.
"I went over to visit orphanages and I ended up falling in love with this little girl, and by the grace of God, I got matched up with her," she said. "So now, it's just a matter of trying to get her home and anything can happen and fall through or fall apart, so it's kind of premature for me to say it, but that's where it's at."
This has definitely been a long journey for the couple.  Congratulations to them on finally making their family dreams come true.
People has the exclusive interview with Jillian and family photos in their June 4 issue, on newsstands Friday.
---
[ad]