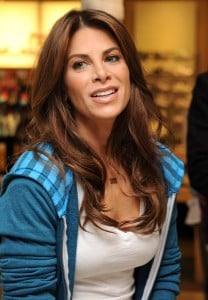 "The Biggest Loser" trainer Jillian Michaels announced today she is in the process of adopting a child from the Congo.
"My dossier, which is your paperwork portfolio, is in to the Democratic Republic of the Congo," the mom-to-be told Us Weekly.

"So the paperwork is done, and now it's just a waiting game. It could be six months, twelve months; it could be two years. Or, it could be tomorrow! They call you and they say, 'Oh, we have your referral,' which is essentially the child they match you up with, and you go overseas and you get him or her."
Jillian, who is set to become a co-host on "The Doctors" has long said she planned to adopt route rather than have a baby.
Last Spring she was somewhat misquoted when she spoke to Women's Health magazine last spring and said,
"I'm going to adopt.  I can't handle doing that to my body. Also, when you rescue something, it's like rescuing a part of yourself."
She later clarified the statement saying she learned very early on that she had endometriosis and polycystic ovaries and  that fertility would/could be a problem for her.
Related Articles:
---
[ad]