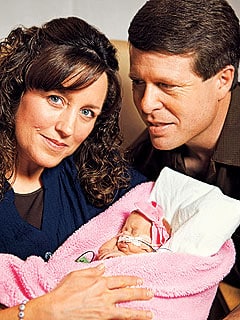 After spending almost four months in the NICU, tiny Josie Brooklyn Duggar is finally leaving the hospital and heading home!
"We're grateful for the prayers of thousands," Jim Bob Duggar told People.com as he and wife Michelle left Arkansas Children's Hospital on Tuesday with Josie. "We are so happy," adds Michelle. "We are so excited, we are running on adrenaline. I have been getting into the routine of every three hours feeding, diapering and taking her temperature. We are so encouraged that she is doing so well."
Baby Josie arrived on Dec. 10 via emergency C-section at just 25 weeks' gestation. Weighing just 1 lb. 6 oz., the micropreemie fought for her life, surviving a bowel perforation at only 8 days old.
Today, Josie only weighs a minute 4 lbs. 9 oz., but she able to do all of the things she needs to do in order go home. Hospitals normally require preemies to be able to breathe without oxygen for 7 days, eat on their own breast or bottle every three hours and be able to maintain their temperature.
Josie's doctor, Robert Arrington said It's a bittersweet day for the staff.
"I will miss being around the baby and the family. "They are very nice people. But they've told me they will stay in touch and come by the nursery to let us see her."
Michelle says the family's emotional roller-coaster ride has "leveled out," and that Josie's disposition has been a joy in hard times.
"She has a strong personality," Michelle says. "She is a spunky little thing and will keep us all going."
Jim and Michelle's youngest children – Jackson, 5, Johanna, 4, Jennifer, 2, and Jordyn, 15 months – have never seen Josie in person and "are jumping up and down that they will finally get to meet their baby sister," says Michelle. Of course, given Josie's still-delicate state, "the little ones will have to be careful with slobbery kisses to prevent any colds and sniffles," Michelle adds.
The family plans to remain in a rental home closeby in Little Rock until they are ready to take Josie home to Tontitown, Ark.
"I will be her main caregiver," Michelle says, "and we'll have a lot of helpers around to take turns feeding her and getting her to sleep."
"19 Kids and Counting: Josie Comes Home" airs Sunday, May 9, at 8/7 Central on TLC


Related Articles:
---