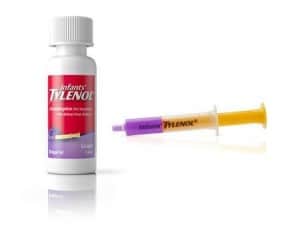 Johnson & Johnson's introduced a new dispensing bottle just three months ago. Designed to make measuring easier and reduce the chances of accidental ingestion, the new bottle has a protective cover on the top and a special measuring syringe. This was supposed to be a big improvement on the previously open-top bottle and bulb syringe previously used.
The company had hoped that the new flow-restrictive top would "help a mom, dad or caregiver ensure the correct dosing." In fact, the company was so optimistic about the new top that they thought it might become the new industry standard.
Unfortunately, the protective top has received complaints from parents and Johnson & Johnson's are now making a voluntary recall of all 574,000 bottles of grape-flavored liquid infant's drops in the U.S. Stores nationwide are now pulling the product from their shelves and a spokeswoman for the company says that it is too early to tell when the products will return.
"Today's news about the infants' Tylenol recall is clearly disappointing after all the progress that McNeil has been making to ensure its products meet the highest level of quality and consumer satisfaction," stated CEO William Weldon.
Parents who have already purchased the recalled infant drops can continue to use them, the company says, as long as the flow restrictor remains intact. If, however, the flow restrictor becomes dislodged, parents can request a refund from Johnson & Johnson's by calling 1-888-222-6036 or by going online to http://www.tylenol.com.
Related Articles:
---
[ad]