Kaltherin Heigl was photographed over the weekend enjoying a beautiful sunny day with daughter Naleigh at the Los Angeles Farmer's Market.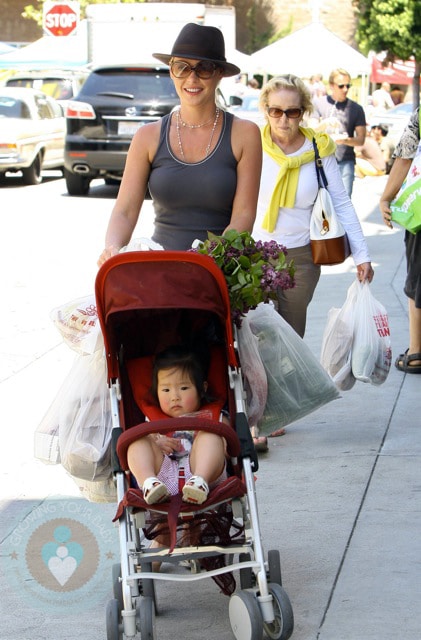 The actress' mom(white top with yellow sweater) joined the pair as they stocked up on flowers, fresh fruits and vegetables.
Absent from the trip was Katherine's husband Josh, who is currently on tour promoting his new album. He recently spoke about how adding Naleigh to the family has brought him and Katherine closer saying,
'Naleigh took us from being very much about ourselves to being selfless. Instead of living for my career and these weird goals, I've got a mouth the feed and someone to take care of and someone to raise.

'We live for the family now – it's pretty great. I love it! She is definitely a daddy's little girl too. I love getting her up in the morning and taking her to my studio, and we have breakfast together and all that stuff.'
Naleigh rides in a 2010 Cybex Topex stroller.
---
Related Articles:
{FAME}
---
[ad]