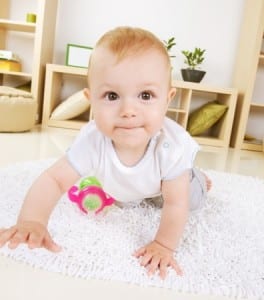 We are excited to be partnered with Safety 1st as one of their parenting ambassadors.  Their commitment to keeping children safe is also one of our principle goals so we think this is the perfect partnership!
As a parent, it can be tricky to identify which areas of your home should be reinforced to keep your kids safe.  And while most of us will start with plugging the electrical outlets and locking the cupboards, there are so many other places in your home that need to be protected.
Safety 1st's Consumer Safety Expert Julie Vallese offers us some Home Safety Tips:
Give Yourself a Head Start – You may not be thinking of safeguarding as a necessity while decorating the new nursery, but it's a great idea to check it off before the baby arrives. Pushing it off could leave you scrambling to catch up once baby starts to crawl. Start with the obvious rooms first, like the nursery and family room and move through the house to each of the rooms you see yourself and your baby together. As a bonus, starting this during pregnancy allows you to add these essential items to your registry.
Get a Baby's Eye View – Always remember to look at a room from your baby's point of view. Getting down on your hands and knees will give you a better idea of what your baby sees and what sort of things will look attractive to curious eyes. Cords and smaller items that are hidden away from a standing adult are suddenly visible. Cord protectors and covers are easy to buy, but sometimes safeguarding simply means moving tempting objects to a high and out of reach place.
Look around each room for low furniture with sharp corners and edges. Many brands provide temporary protective bumpers and corner guards that can be removed later once your baby has stopped using furniture as an aid in early standing.  Check for large furniture pieces, such as entertainment centers and drawers. These should be firmly anchored to the wall and cabinet doors locked. What seems like simple furniture to an adult can easily become an attractive ladder to a young child.
Keep Secrets  – One of the most common ways safety devices are defeated is through simple observation. A good lock or latch can help keep a cabinet off limits for those first years, but toddlers learn by watching adults act. Use your body to block the view when unlocking a lock or loosening a latch and never allow them to "play" with it. As we all know, our own children are always the cleverest!
Stay Out! – The most effective way to keep children safe is to simply create off-limit areas and teach your child right off to avoid them. Laundry rooms, garages and balconies should be made available only to age appropriate children who have learned to avoid the hazards that each of these present. A safety lock or doorknob cover can be the first layer of protection for these interior rooms and be sure to install hard to reach locks for doors leading to the outside, basement and other high hazard rooms. Be sure to back these physical precautions up with age appropriate parental commands emphasizing that these areas are not child friendly and not meant for play.
To help you out, Safety 1st is offering one(1) reader the opportunity to WIN a Home Safety bundle
Double Door Slide Lock – These sturdy slide locks help keep children out of cabinets and are easy to install.
Safety 1st Secure Mount Deadbolt Lock – This easy to install lock requires no adhesives or drilling and leaves no marring on the door after removal. The simple installation takes just 3-steps, making it easy for parents to prevent children from opening doors with deadbolt locks.
Easy-Fit® Security Gate  – The Safety 1st  pressure mounted high gate is easy to assemble. It has a one handed lock and release handle that is convenient for parents to unlock and relock. It expands wide so as to accommodate different size door openings.
Cord Short'ner – Stores up to 4′(122 cm) of excess cord, accommodates most power cords  and is Designed to store the unused portion of electrical cords that may cause tripping hazards throughout the house.
Double-Touch Plug 'N Outlet Covers – The convenient cover helps prevent electrical shock, while conveniently guarding outlets in use. The 2-piece design allows adults to easily plug and unplug electrical cords, while preventing a child's access to live outlets.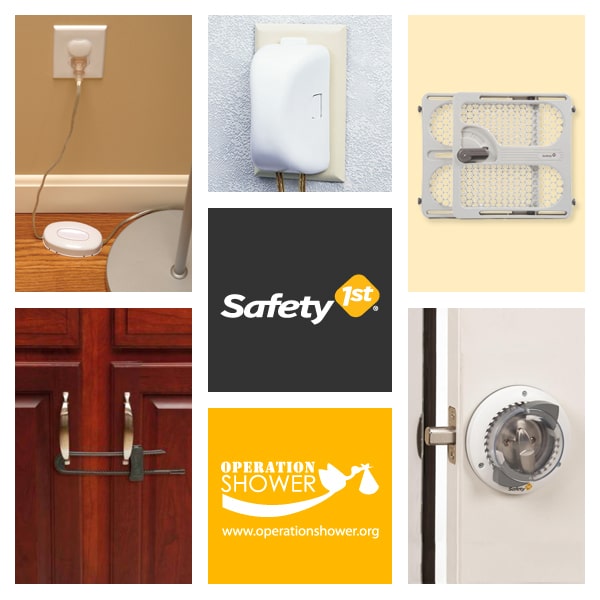 In addition to providing us with one to give away to a lucky reader, Safety 1st is also donating the Baby Safety Bundle to Operation Show for their shower on September 27th in Ponte Vedra Beach, FL for 41 military moms-to-be.
Operation Shower is about celebrating, honoring and showing love to military families. The goal of this non-profit organization is to provide joyful – AWESOME – baby showers for military families to ease the stress of deployment.
To ENTER please Share a Safety Tip Below!