Nativity sets are a wonderful way to teach your children about the story of baby Jesus, but most are too fragile to play with. Since children are tactile in nature, that can be rather problematic. Thankfully, there are some kid-friendly nativity scenes that parents can use, regardless of their child's age.
The following 10 sets are some of our favorites.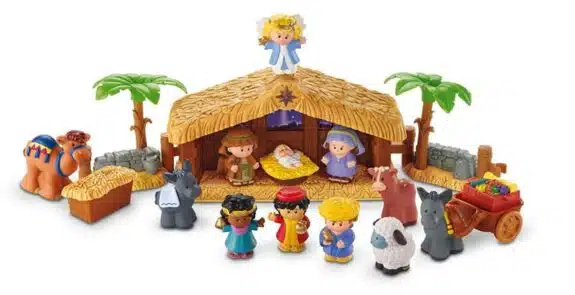 As one of the longest running toy lines in America, Fisher Price's Little People toys are known and loved by many. Perhaps that's why they were the first set we thought of when compiling our list – or maybe it's because we also know that these sets can reliably be passed on to future generations. If you're looking to start a family tradition and want a nativity playset from a brand you trust, this is definitely the one.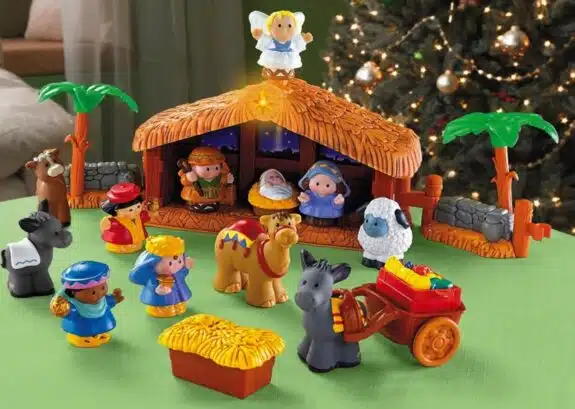 The set includes 12 Little People figures, 5 accessory pieces and the sweet baby manger. To bring it more to life, kids can push down on the angel to hear a sweet song & make the light-up star shine bright.
The Star from Afar Nativity Set($35)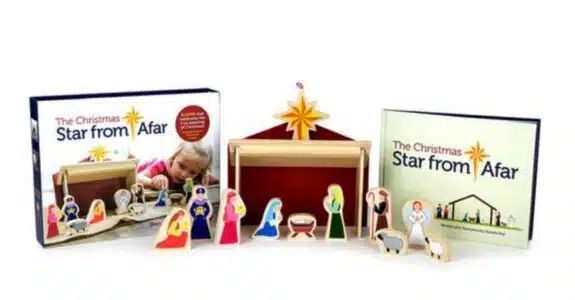 The Star from Afar nativity set offers so much more than a sturdy playset. It's also a game, and it comes complete with a book and scripture cards that you can read to your children. The best thing about this set is that you can make this your own. It's a wonderful way to start a fun, new tradition in your family – one that centers around the story of baby Jesus.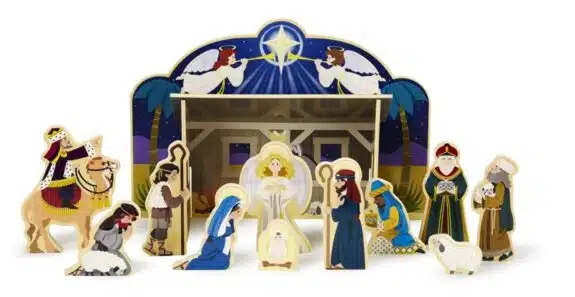 Melissa & Doug toys don't just bring the classics back to life – they redefine and reimagine them, and their wooden nativity set is no exception. Lightweight, colorful, and made for play, this set offers hours of imaginative play.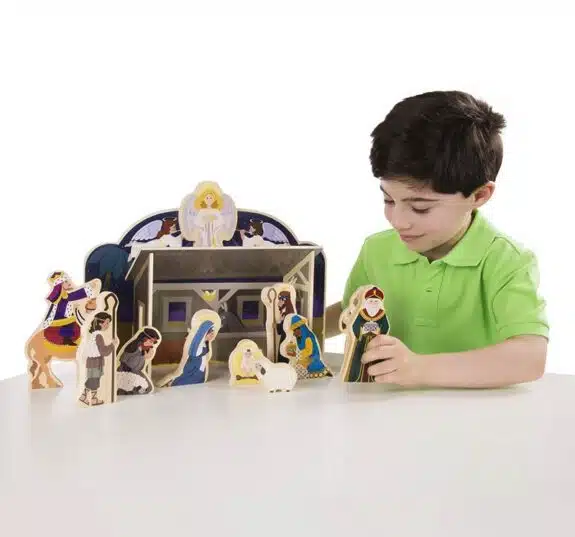 Designed for kids 4+, this set includes an easy-to-assemble 4-piece stable and 11 wooden figures.
Playmobil Nativity Stable with Manger($50)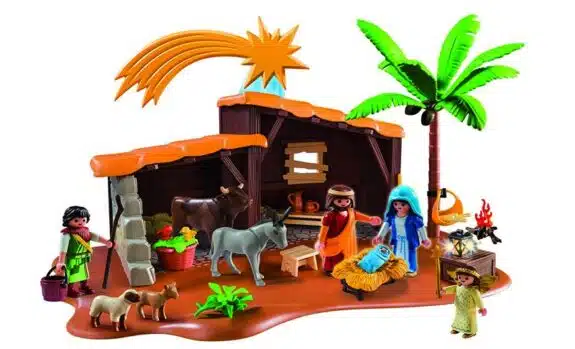 If you want something a little more magical, or something that more closely resembles an adult set, the Playmobil nativity set may be just the one for your child. Its working lantern brings the manger scene to life, and the child-sized figurines and accessories are the perfect size for little hands. You can also purchase a separate Wise Kings set to go along with it, but the Manger Set works all on its own.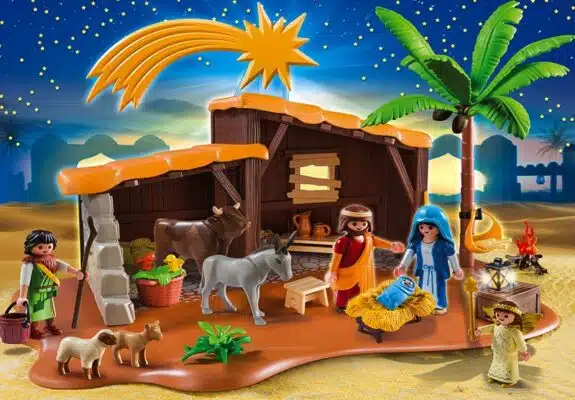 This set includes five figures, stable, lantern, lamb, palm tree, shooting star, haystack, bonfire, and other accessories.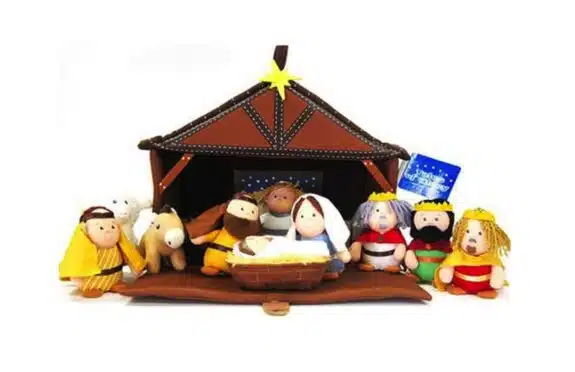 The Tales of Glory plush nativity set is perfect for on-the-go play. Approved for ages three and up, the set is also great for sensory play and young children who may need softer toys. It comes complete with Mary, Joseph, baby Jesus, a shepherd, an angel, a donkey, a sheep, three wise men, and a manger. Everything fits inside the manger so your child can also take the set for playdates or while out and about.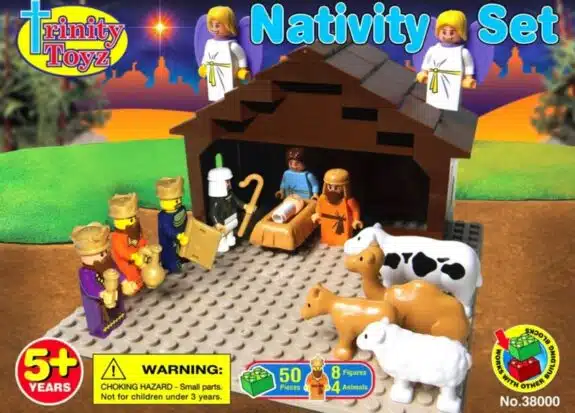 If your child is a lover of building blocks, then the Trinity Toys nativity building block set is the perfect way to kinesthetically engage them. It is completely compatible with LEGO brand blocks and it includes everything you need to recreate the Christmas story, including 50 building blocks, nine figures and four animals.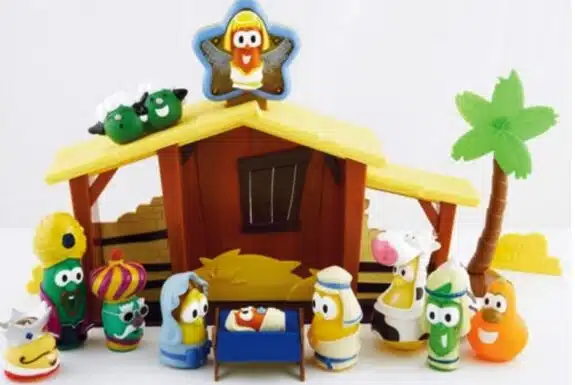 The Veggie Tales nativity set includes all your child's favorite Veggie Tales characters, so it makes teaching the story of baby Jesus both fun and easy! The perfect size for toddlers, this set is approved for children ages three and up. Includes, the manger, and ten Veggie Tale figures. Laura Angel watches over the scene in a flashing star, singing "Oh, Little Town of Bethlehem." Requires 3 button cells (included). Measures 11.5″L x 2.65″W x 8.9″H.
EverEarth Nativity Set($40)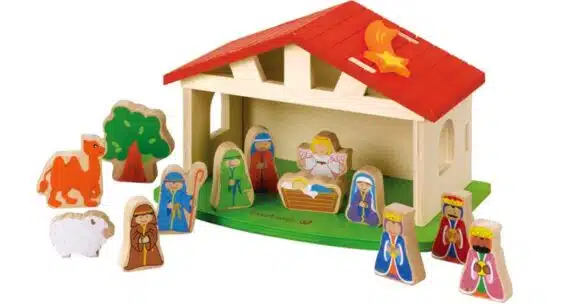 Made of natural bamboo, the EverEarth nativity set is one of the few sets approved for children under the age of two. Colorful and easy to clean, it's a great introductory set for your little one. Suitable for children 18 Months, this set includes – Baby Jesus in his manger, Joseph, Mary, 3 Kings, 3 Wise Men, Angel, Camel, Sheep, Tree & Stable with removable roof. Size: Stable 27 x 14 x 17cm. Figures are approx 6 x 3 x 1.5cm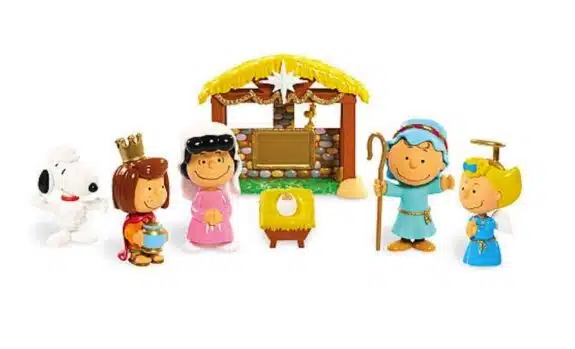 The Peanuts gang comes together in this adorable nativity set. Children can reenact the scene, right from their favorite Peanuts Christmas movie, or simply enjoy playing with the set. The set includes 7 pieces: Charlie Brown, Snoopy, Sally, Lucy, Peppermint Patty and the manger set with cradle. Approximately 3″ tall.
One Holiday Lane Wooden Coloring Nativity Set($28)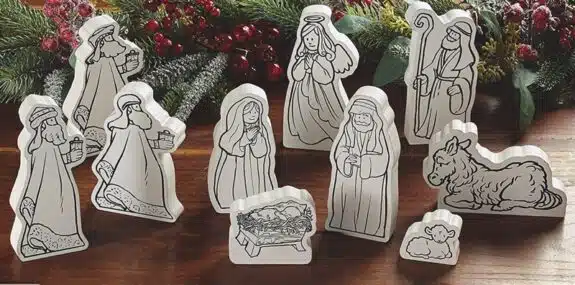 The One Holiday Lane wooden coloring nativity art kit is the perfect option for coloring enthusiasts! Markers give kids control over the colors, and sturdy wooden pieces offer countless hours of play. The set includes ten wooden nativity scene characters are blank for coloring or can be displayed black and white as-is. Wood. Sizes: 1.5" – 5″ high x 1.25 – 1.75″ wide.