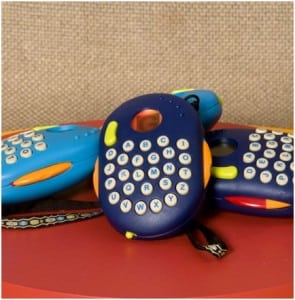 My son is 15 months old; he's now at that age where he wants to play with everything from the TV remote and telephone to my PDA.  If you're like me you probably have a few heart palpations every time your child touches your precious communications device but have no fear, now your cutie can have one of his/her own with this Alphaberry from B. toys! Just one slight difference, instead of checking Facebook or sending a tweet, (s)he'll be learning his/her ABCs!
(S)he can learn her letters and pretend she is typing another email at the same time.  The Alphaberry fits perfectly into my sons little hands, and features all the letters of the alphabet.  He simply pushes any button and that letter will appear on the screen and will be read aloud.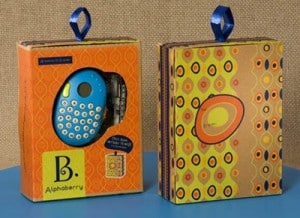 It also plays the Alphabet Song in four musical styles, and has three screen colors – which seem to attract him to it even more.  As a parent I love the volume control, auto-off feature and get this… batteries are INCLUDED!
I love that my son now (mostly) stays away from my PDA and plays with his Alphaberry and as a bonus I know that he's playing with an educational toy!
If you would like to 'test' out the Alphaberry yourself and see what it sounds like, visit their website and you can click on the different buttons to hear the sounds.
Staying true to their quality, creativity and the down-right fun factor, the Alphaberry is a toy that will be very well-loved in your home.
*Thank you to B. toys for sending us the Alphaberry for review*
Related Articles: