Reality star Kim Kardashian was photographed filming her show 'Keeping up with the Kardashians', while visiting an office in LA on Tuesday.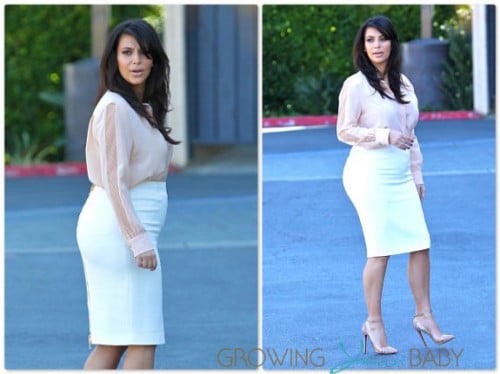 Always on the go, the mom-to-be got a bit of a scare while flying home from Paris last week.
"Kim started feeling ill on the plane from Paris, and called friends as soon as she landed," a source told the New York Post. "She was rushed to her doctor Tuesday night in tears. She thought she was having a miscarriage."
Thankfully, the baby is fine, but many are saying that she has to slow down. Spotted out almost every day at the gym, Kim has also spent a considerable amount of time traveling during this pregnancy. Last week, leading high-risk obstetrician, Dr. Manny posted an open letter to the star recommending that she find a balance between her work duties and physical rest.
Since announcing her pregnancy, Kim has flown to numerous countries to promote her various ventures, including Nigeria, Brazil and France. Not to mention her back and forth between New York and Los Angeles.
Hopefully she will slow down to keep her baby is safe and sound.  She'll also have to ditch the heels at some point as well.
---
{FAME/FLYNET}
---