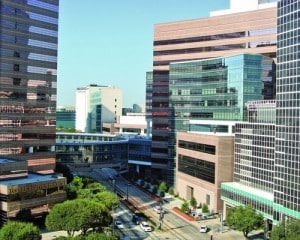 The staff at Texas Children's Pavilion for Women won't be slowing down anytime soon.  Just as they said good-bye to the last sextuplet born to Lauren and David Perkins in May, a new set of quintuplets was placed in their NICU.
In a release sent out this morning, the hospital revealed this morning that Sarah and Bruce Plauche', natives of Lake Charles, LA, welcomed three boys and two girls on Friday, Sept. 7 at 28 weeks 1 day gestation.
Doctors noted that Sarah was on bed rest at the Texas Children's Pavilion for Women for three weeks before delivering the quintuplets, who weighed between 2 lbs 4 ounces and 2 lbs 9 ounces. The babies, Owen Parker, Tessa Quinn, Reece William, Miles Shepherd and Corinne Elise (in birth order) were born at 3:26 p.m. arriving within four minutes.  The quints were taken to the NICU at the Pavilion for Women where they are breathing with the help of CPAP (continuous positive airway pressure).
The Plauche' quintuplets are the first ever-recorded quintuplets in Lake Charles and the first set in Houston this year.
"The Plauche' quintuplets are all critical but stable and doing really well, especially for babies born at 28 weeks," according to Dr. Stephen Welty, chief of neonatology at Texas Children's Hospital and head of newborn section, Department of Pediatrics at Baylor College of Medicine. "A crucial aspect of achieving the best outcomes for our patients is to conduct simulations to prepare for the births of high-order multiples. The good news is that the doctors and nurses at the Pavilion for Women have been delivering and caring for premature and critically-ill babies for more than 50 years and complex cases, such as this one, are exactly why the Pavilion for Women was created – to have an experienced team and state-of-the-art facility ready to handle the most high-risk births. We are glad we could be here for the Plauche' family."
Dr. Robert Carpenter, OB/GYN physician at the Pavilion for Women, looked after both Lauren Perkins and Sarah Plauche.
"This pregnancy was very similar to the sextuplet pregnancy and I monitored Sarah closely here and in collaborative care with her primary OB/GYN, Dr. David McAlpine, in Lake Charles. Our goal was to get Sarah to at least 28 weeks gestation where the risk of major problems with intracranial hemorrhage, respiratory distress and chronic lung disease, necrotizing enterocolitis and neonatal infections are substantially decreased. She was able to do that with close monitoring, lots of rest and significant stress reduction." said Carpenter, a maternal fetal medicine specialist.
Dr.Carpenter explained that one of the main issues he sees with high order pregnancies is dilation of the cervix and that placing a cervical cerclage or stitching the cervix closed to hold the babies in is an important factor in getting the pregnancy so far, a precaution he truly believes should be mandatory for anyone carrying four babies or more. At 25 weeks gestation, Carpenter was informed by Sarah's OB that was going into pre-term labor and that her cervix was shortening. At that point she was transferred from Lake Charles to the Pavilion for Women for closer monitoring.
The parents will be staying in Houston until they are able to bring all five babies home to Lake Charles.
---
[ad]