As we all know, babies come when they want and where they want. April Brown, born three months premature, simply reinforced this knowledge by deciding that she wanted to come early while her mother was on her lunch break. But, unlike some of our eager babies, April did give at least a little bit of a warning to her mother, Hannah Brown, even if she didn't quite recognize it as such.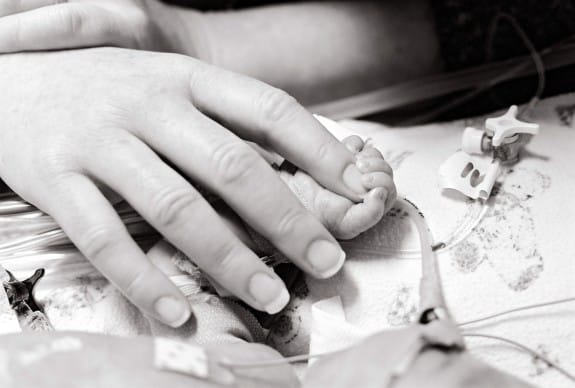 "I woke up and didn't quite feel myself but I didn't think much of it and went to work," Hannah, head of the baby unit at Tree Tops Nursery, told Daily Star. "I'd had a scan the day before and everything was fine with the baby so I wasn't worried."
But as the day went on, Hannah started to feel more and more out of sorts. By the time lunch rolled around, she really wasn't feeling well.
"I was having my lunch break with my colleagues when I felt really uncomfortable so I went to the toilet," Hannah said. "I was on the loo when I knew I could feel the baby's head. I called for help for someone to get an ambulance but there wasn't time. I could hear the sirens when April just whooshed out onto the floor."
In the meantime, someone had tried to call her husband, Kyle.
"I had a missed call on my mobile whilst Hannah was at work and by the time I had rang back she'd already had the baby. I was passed on to paramedics but as luck would have it my phone ran out of battery," Kyle told Daily*. "I frantically packed a bag for Hannah and called Hannah's dad using the house phone and he came and picked me up."
Born three months premature, Hannah was in a bit of trouble. So much so that paramedics rushed her straight to the Gloucestershire Royal Hospital intensive care unit.
"She stopped breathing for over thirty seconds. It was terrifying, and we had talks about possible blood transfusions," Kyle said. "But thankfully she pulled through and from that day on board, it was full steam ahead and she just got stronger every day."
And, as her father says, April is most definitely stronger. In fact, she just went home after spending only eight weeks at the hospital. That put her homecoming at four weeks before her actual due date.
Little April's survival really hit home for the couple, not just because they were worried about their daughter, but because they also lost their first child, Finn, who was stillborn at 32 weeks.
"Although there have been difficult times before, we will never forget the little boy we had, and the day we brought April home."
Related Articles:
---
[ad]