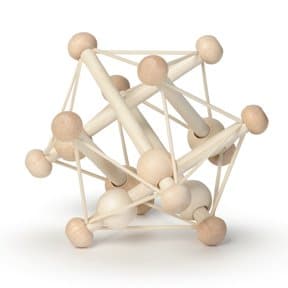 When I first saw 'Skwish' by Manhattan Toy I wasn't sure what to think until I started to play with it.

Designed to appeal to your baby's visual and tactile curiosity, 'Skwish' is a multi-functional toy that appeals to kids off all ages and even adults.
It's unusual shape caught my 3 year-old's attention immediately. He spent almost a half an hour turning it around and pushing it in and out before allowing my 4 month-old a chance to explore.
At first he wasn't sure what to think, but he quickly came around when he heard the clinking sound Skwish makes when the beads slide up and down on the rods.
It's ability to stretch and pop back up into shape offers visual stimulation and helps develop motor skills in children.
New for 2009 Manhattan Toy has introduced a natural version of this normally colorful toy. The un-dyed version is perfect for parents looking for eco-friendly choices. Like all of Manhattan's 'Skwish' toys, it is made of replenishable rubberwood with non-toxic, water based finishes.
Available at Manhattantoy.com $15
---