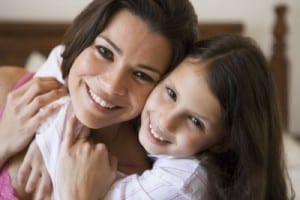 A new study published in the Cancer journal found that many cancer survivors are parents with minor children. An estimated 1.5 million cancer survivors in the United States have children under the age of 18 living with them.
According to Dr. Paula Rauch, founder and director of the Parenting At a Challenging Time, many people think of cancer patients as elderly, with no dependent children at home. What this study shows is that idea is very wrong. Health care providers who care for those fighting cancer need to be more aware of the families that are equally affected by a cancer diagnosis.

"I think people have vastly underestimated the number of children who are affected by a parent's cancer," Dr. Paula Rauch, who was not involved in the study, told Reuters Health.
The study was conducted by Dr. Kathryn Weaver of Wake Forest University Baptist Medical Center in Winston-Salem, North Carolina. Dr. Weaver and her colleagues looked at the data from 13,385 cancer survivors who chose to take part in surveys between 2000 and 2007. The researchers estimated that at least 14 percent of all cancer survivors in the U.S. lived with their one or more of their minor children.
When taken to a national scale, 1.58 million people in the US are cancer survivors living with minor children. About 2.85 million children are affected by cancer from at least one of their parents. This figure is considered low because the study did not look at survivors caring for other children, such as grandchildren.
The researchers say that those with cancer and young children may be facing additional stress that needs to be factored into how they are treated and cared for. The cost of treatment, the strain on partners, and the stress on children can all affect how a person with cancer responds to treatment. – Summer, Staff Writer

Related Articles:
---
[ad]