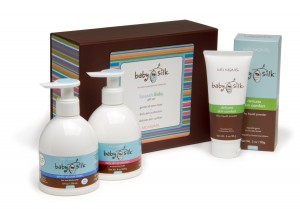 I recently had the opportunity to meet with MD Moms at the ABC Kids Show in Las Vegas.
MD Moms are two board-certified pediatricians who are also moms. They were inspired by the needs of their patients and their own children to create Baby Silk, the first pediatrician-developed personal care line for babies!
One of my girlfriends can't say enough about the SPF 30 sunscreen towelettes and their cleansing towelettes; and because I have heard nothing but wonderful things about both of those products I couldn't wait to meet with them at the show.
Upon learning that I was expecting my first baby, the MD moms recommended their Spaaah Baby Gift($64) set to sample with strict orders that I should be using it during my pregnancy and not wait until the baby arrives.
The Spaaah Baby Gift set includes full sizes of the Gentle All-Over Clean Hair and Body Wash, Daily Skin Protection Moisturizing Balm and Delicate Skin Comfort Silky Liquid Powder. At first I was a little unsure about their request for me to use the products now – after all aren't they meant for babies?!?
All three of the products have the wonderful signature smell that all the Baby Silk products are known for. Because of this I love using the body wash every time I shower. The moisturizing balm has also come in especially handy in the past few weeks. With the cold weather upon us, and my excessive hand washing, I've found that it is perfect for taking away that dry feeling without being greasy.
Surprisingly, the best part of the gift pack has proven to be the product I thought I'd use the least. Since becoming pregnant, I've found that little parts of my body that had never sweat in the past were now surprising me with little beads of dampness (including under my breasts, the bottoms of my feet and most recently between my thighs). A couple weeks ago my husband walked in on me after I got out of the shower to find me applying deodorant under my breasts. With a look of total shock on his face, he announced "I really wish I hadn't seen that" as he quickly left the bathroom.
Lucky for me the Delicate Skin Comfort Silky Liquid Powder has been the perfect cure for this! It smooths on like a lotion then transforms into a silky, protective stay-dry powder to keep any fold or crevice comfortably dry and cool – with an added bonus – it doesn't freak my husband out!!
All Baby Silk products are made especially for babies and their delicate skin. They are made with pure, high-quality ingredients and do not include additives that have proven to be skin irritants. Whether for infant for mom we would highly recommend any of MD Moms products! – Tanya, Staff Writer
---