It is a season of big babies for the world. Just a month after a German baby girl became the biggest to be born in the country and a Spanish baby arrived soon to give her company in the same league, Mexico welcomed its biggest baby born in the border city of Juarez, across the Rio Grande from El Paso, Texas.
Baby Dilan Aram was born weighing a magnificent 14 pounds and 8 ounces and though he is not the biggest baby in the world, his birth weight is quite an unusual feat.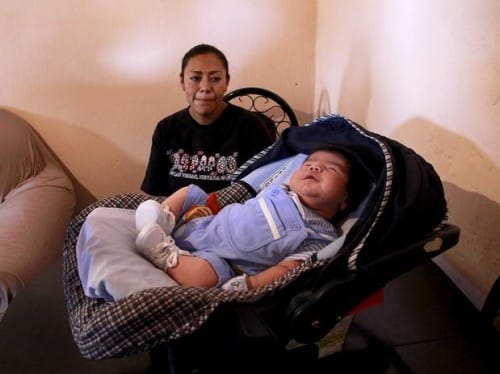 Dilan is the new member of the Hernandez Flores family and his parents had no idea they would have such a big blessing.
The couple, who already has four children, bought clothes for the baby but he outgrew them before he arrived.
Baby Dilan looks like a six month old and will need diapers of the same size but the parents might struggle to provide him these as the family is going through hard times after the father lost his job 6 months ago.
"At first I was amazed, and frightened at the same time," the baby's father, Cesar Hernandez told the newspaper Norte de Juarez. "Maybe he is ill, I thought, but my baby is big and healthy."
Taken by surprise at the baby's unusual size, the family is asking for asking for donations, specifically clothes and diapers.
"We are very happy, yet very concerned," Hernandez said. "How are we going to provide to all our children? We have no jobs and are at the mercy of the public good and their support. We certainly would appreciate that."
Baby Dilan joins his siblings, 18-year-old Alberto, who is heading to college; Rodrigo, 10; Jennifer, 11; and Isaac, 9.
Some experts though are a bit worried at the increased frequency of big babies born across the world. Obesity and diabetes are two problems that they think has surfaced and may become more common if babies in general are larger at birth. Some gynocolgists also opine that having large babies may sometimes make it difficult for the moms and the medics during labor when the baby's shoulder might get stuck.
Baby Dilan is reportedly in good health and smiling as he makes his parent's world a lot happier.
---
[ad]