As a Police Sergeant, Curt Zacharias admits that they often respond to calls that don't end well, many times dealing with life-or-death situations, saying "We witness a lot of tragedies." But this past Sunday, Zacharias says that what happened "just left us with a nice warm feeling." The police officer is referring to the "miracle baby," a little boy who was born at a Woodbury, Minnesota high school during a church service.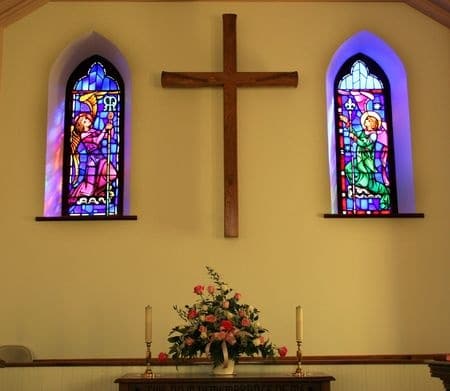 Police had received the call at around 12:20 p.m. Sunday afternoon. The twenty-two year old mother had apparently gone into labor either during or shortly after the service of Eagle Brook Church, which had been temporarily congregating at East Ridge High School until their Woodbury branch opens this autumn.
Among the officers that responded to the call was Woodbury Police Sergeant Alanna Kopel, who is cross-trained as a paramedic and is three months pregnant herself. When she heard of the call, she recalls thinking "It didn't sound like a good situation." Kopel, along with two other officers ran past the dozens of parishioners of the church, who were congregating outside of a bathroom. It was there, in a bathroom stall that Kopel had first laid eyes on this "miracle baby." The mother sat there on the toilet, cradling the infant to her chest, with the birth of the child occurring only mere minutes earlier, with the help of the church parishioners. Kopel adds, "The congregation gets the credit for this one."
The new little bundle of joy was then given oxygen by another paramedic, while Kopel checked the infant's vital signs and attached an umbilical cord clamp. She picked up the child to try and assess his condition. Recalling the feeling, she says "The little guy started to pinken up. He opened his eyes and looked right at me. It was an amazing thing." Snuggled warmly in a blanket, Kopel carried him out of the building, where she met a very silent crowd.
With the newborn in her arms, who was also silent, the church congregation was staring at Kopel, unaware that the baby was alive, "all those eyes were on me," she said. But once she announced that the newborn was okay, the crowd erupted into cheers as the mother and infant boarded the ambulance to head to the local hospital. Sgt. Zacharias says, "I have been in law enforcement for 24 years, and this is one of those miracle moments." Both mom and baby are said to be in good condition.
---
[ad]