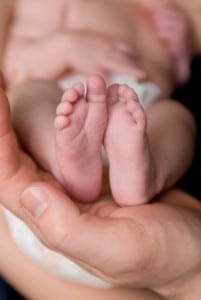 Before D-day even came for Racel Rodger, doctors had told her that the second delivery would be fast. Knowing this, she and her husband left at the first signs of labor. Unfortunately, a drive that would have normally taken only half an hour – their home in Coupar Angus to the Perth Royal Infirmary – ended up taking much longer.
The drive started around 3am. Driven by her husband, Jason, it seemed that they were going to be just fine on time. But then the unthinkable happened. Police had the road blocked because of a break-in at the Co-op. Officers forced the couple to stop at the roadblock, and despite explaining to the officer that they were in a hurry, they were told they would have to wait.
Valuable minutes ticked by as the officer spoke with the driver of the car in front of them. The female officer told the couple that they had to wait to pass until after they'd answered questions and given their information. Finally, the long ordeal over, they went along on their way. But they would be stopped, yet again. Thankfully, this time, the officer waved the couple on through and told them to go straight to the hospital.
At 4am, an hour after they'd left their home, the couple made it to the PRI's maternity unit. Jason left Rachel in the car while he went to fetch a midwife. Only, baby decided that he wasn't willing to wait. His head started to emerge while she was alone in the car park, just outside the hospital's doors.
"My legs gave way, I was on my knees on the tarmac, the baby's head came," Rachel recalled. "I'd brought a towel to sit on in the car. I put it under me. I was screaming."
Jason and the midwife made it back just in time to help Rachel deliver the baby, but that didn't ease Rachel's fears much.
"They had to cut the cord in the dark," she said. "I was very frightened."
Finally, with the baby delivered, mom and 8lb, 9oz Luke were taken inside the hospital. They were discharged the next day.
Rachel's mom, Isobel Hindmarch, was extremely disturbed by the entire incident. She ended up calling Tayside Police to complain.
"I'm very angry about what my daughter went through," stated Isobel. "Every second counts if you're expecting a speedy delivery. It should've been clear to the WPC at Scone that Rachel needed to be waved through immediately."
In response to the phone call, a spokesperson, Ian Martin of Tayside Police's Community Policing Division, sent a letter to the family.
"It is a matter of great regret that our actions, intended to affect the arrest of those responsible for a break-in to a premises in Scone, resulted in a delay in your daughter getting to Perth Royal Infirmary," Martin said in his letter. "I offer my apologies if the delay in being stopped at the road block impacted on subsequent events, and for any anxiety or distress caused to your daughter."
Thankfully, it seems that everyone made it out okay. I'm just curious as to whether or not they caught the robbers…
Related Articles:
---
[ad]