There was some excitement onboard a flight headed to Los Angeles from Taiwan last Thursday when a passenger, who was 32 weeks pregnant, went into labour mid-flight.
Six hours into the 19-hour flight, a pregnant woman told the cabin crew her water had broken. Crew members immediately requested assistance from passengers – and a doctor who happened to be on board – delivered the baby girl.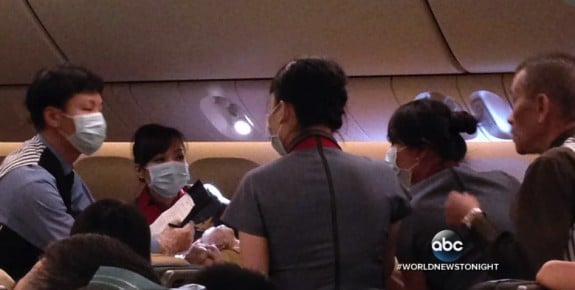 Amira Rajput, who filmed the birth, said that flight attendants were 'giggling with joy' while holding the newborn in blankets and wiping her off. Passengers can on the video clapping and cheering.
"The woman is tough as nails," Rajput told ABC News, adding that she bit down on blankets to keep from screaming.

"It was super chill," Rajput said. "People were super quiet and calm so that this woman could have a stress-free experience."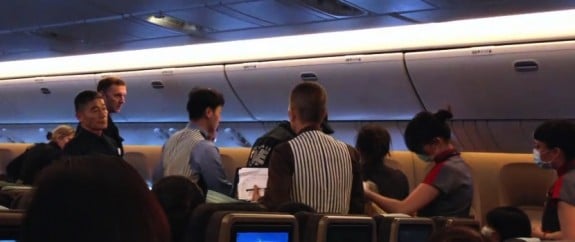 After the surprise arrival, the China Airlines pilot requested permission to land at the nearest airport – Anchorage, Alaska – out of an abundance of caution.
Once the plane landed, a border patrol agent came into the plane, and asked to see the woman's passport.
"He told me that this is something foreign women do, to try and deliver overseas for citizenship," Rajput said. "This is a political issue. People die to come to this country."
The mom and baby were taken to a local hospital where they were listed in good condition, the China Post reported. The plane was then refueled and continued to Los Angeles – only arriving three hours behind schedule.
Rajput recalled seeing the mom-to-be before they boarded the plane in a bathroom at Taiwan Taoyuan International Airport.
"She was huge. I thought, 'What is she doing flying?'" Rajput said.
On their site China Airlines states,
Healthy expectant mothers who are less than 32 weeks of pregnancy or more than 8 weeks from the estimated delivery date may travel and be accepted by China Airlines as normal passengers. If expectant mothers who are over 32 weeks of pregnancy, and will deliver within 4 to 8 weeks want to travel by our company's flights, passengers shall complete the a "Release and Indemnity" form, and need to have a "Medical Certificate for Air Travel" which is filled out and signed by the obstetrician within 7 days from departure.
---
[ad]