Mom-to-be Ciara was a vision in white while on stage at Power 106's Valentine Crush Concert in Los Angeles on Friday.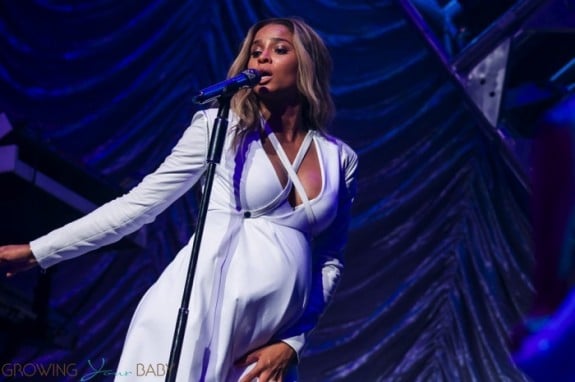 Ciara joined Jason Derulo, Sean Paul and Big Sean for the event, performing her new song 'Anytime'.
Backstage Ciara spoke to Power 106 about her pregnancy, cravings and her friendship with Kim Kardashian.
When asked if her baby dances to any music the singer revealed,
"I have put the headphones up to my stomach and played anytime and literally kicks started happening back to back to back.  It was when I just started recording that song.   I read books to my belly.  I'm really into it.  I'm really having fun."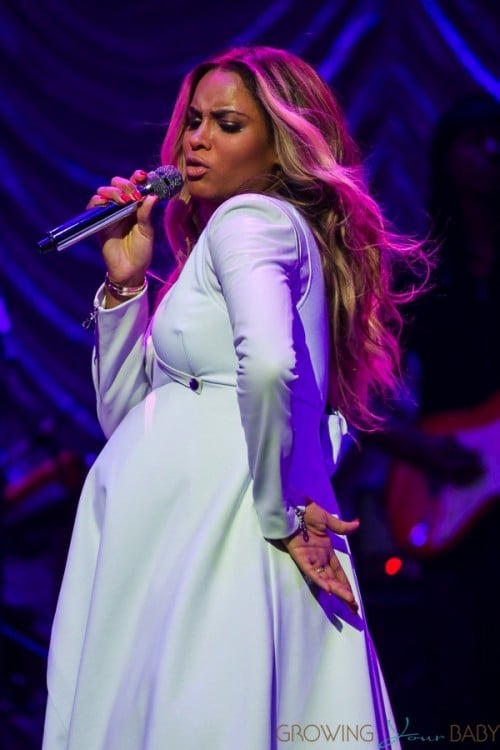 What is the best part about being pregnant?
"The most fun part about being pregnant is simply not having to worry about what I eat.  Before I went on stage today I had Rosco's chicken and waffles. So being able to do stuff like that.  I like that.  It's perfect with me.  I remember doing the Grammys and I had a club sandwich and french fries.  I'm kinda lovin this.  I'm not really trying to think about working out right now because I know it's going to be really intense but I'm enjoying that comfort and also the overall experience itself."
Adding,
 "It is the most beautiful experience a woman can have.  It is just so much fun and you learn so much about your body.  I'm so in tuned with becoming a mom. "
Last week Ciara was photographed shopping with Kim Kardashian for baby goods at Bel Bambini in LA.  She gushed to dj Yesi Ortiz about the reality star and how different their pregnancies were.
"She is so funny and so cute and I am so proud of her because, one, it's amazing to see how things happen over time.  How everyone is finding love and we are in such a good place with love and with ourselves as  women.

Our stories of pregnancy are so different.  She didn't like her process because it was so hard for her, and then for me I'm like woo, woo, woo!  It's amazing to have cool stories to share."
After her performance Ciara shared a photo of her self noting, '2 Day Was Perfect and Full Of Love. Xo.'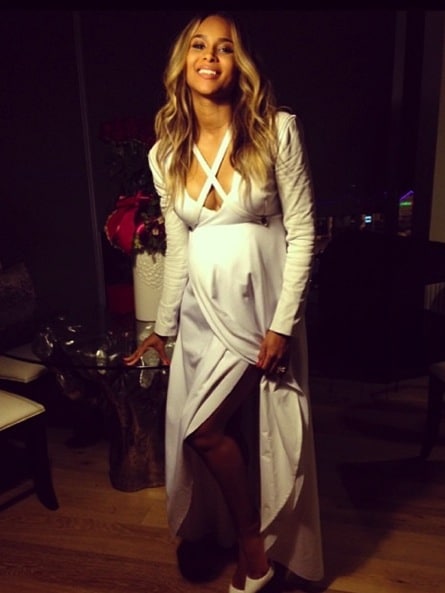 {SPLASH}
---
[ad]