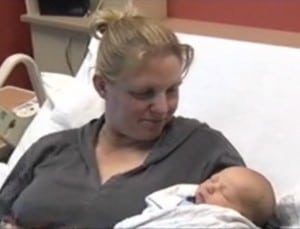 For one family at Memorial Hospital in Colorado Springs, miracles do still happen.
On Christmas Eve, Tracey Hermanstorfer went into labor with her third child. Everyone assumed the labor and delivery would be as simple as it had been with her first two. Unexpectedly, however, Tracey went into cardiac arrest and died as she was laboring.
Doctors tried to revive the mother for several minutes before giving up. Assuming the mother was dead, the medical staff worked desperately to remove the infant by emergency c-section in the delivery room. Unfortunately the child was also not breathing or responding.
Tracey's husband, Mike Hermanstorfer, said, "Half of my family was laying there in front of me, there's no other way to say it, but dead."
That is when the miracle occurred.
Immediately after the infant was delivered, a pulse was detected in Tracey again. Realizing that her heart had began beating again on it's own, doctors rushed her into the operating room to complete the surgery. Meanwhile additional doctors worked frantically to resuscitate the lifeless infant. While his father held him, doctors were able to get the infant breathing on his own.
Mother and child show no sign of complications from their near-death encounter, and doctors still do not know what caused the cardiac arrest. Tracey and her new son, Coltyn, have been released home to the rest of their family. Parents have been adviced to monitor the infant's progression and growth to make sure there are no long-term effects from the near miss.
For the Hermanstorfers, Christmas came with a real miracle that they will never forget. – Summer, staff writer
Related Articles:
---
[ad]