The country of Germany welcomed its biggest baby on record earlier this week – a 13.47 pound, 22.6 inch baby girl! Even more amazing is that, despite the fact that most babies of this size are delivered via C-section, baby Jasleen's mother was able to deliver vaginally.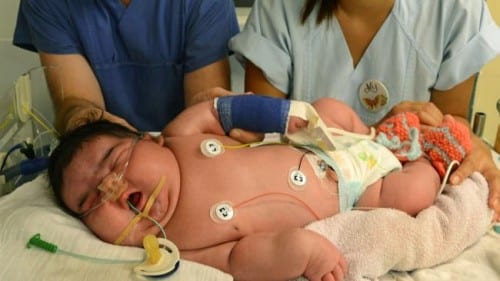 According to doctors at University Hospital Leipzig, where the girl was born, the mother had a previously undiagnosed case of gestational diabetes. Usually developing around the 24th week of pregnancy, the condition can lead to larger-than-average sized babies.
Jasleen's record sized birth beat out a 13 pound baby boy named Jihad, born in Berlin in 2011, but she doesn't even come close to beating the world record. According to the Guinness Book of World Records, Anna Bates (7'5") and her husband (7'11") had the largest baby in the world; he was born at 23 pounds, 12 ounces. Sadly, however, he died just 11 hours after his birth.
Despite the fact that Jasleen remains in the neonatal intensive care unit, doctors told the German newspaper, Der Spiegel, that mom and baby are both doing well. At this time, it is unclear as to why Jasleen is in the NICU, but we hope she puts up a fight and is able to go home with her family soon.
Related Articles:
---
[ad]