For as long as I can remember our family has travelled together. Through countless camping trips, cruises and day trips, there have always been aunts and uncles, friends and grandparents with us to experience each adventure as a team. For me, it's the only way to travel. Having my parents there to see my kids snorkel for the first time, experience new activities and learn about the world is very important to me.
A few weeks ago when the opportunity came up to visit Beaches Turks and Caicos with my mom, we jumped at it. The biggest resort on the island of Providenciales, it also offers something for travellers of all ages. From the minute we arrived, we had the most incredible time. Beaches truly is a resort where families make memories for a lifetime.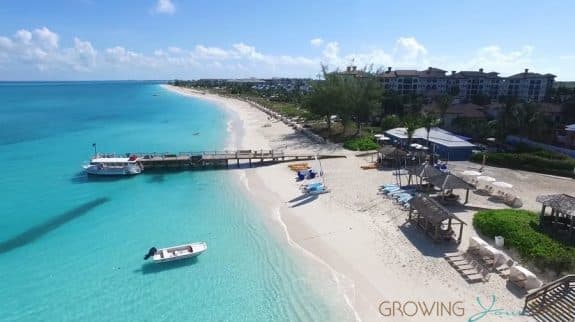 Here are 10 reasons why I think every family should visit Beaches Turks and Caicos with gramma and grampa!
Bonding Time
Often grandparents come to visit for just a couple hours – every few weeks or even months. In between catching up and all the family activities that bring us together, the kids rarely get the dedicated time to spend with my parents. Beaches is situated on more than a mile of Grace Bay, which allowed for hours of offshore snorkeling and castle making with gramma. With nowhere to be and endless hours of relaxation, I found the kids opening up more and more to gramma about what they do at school and some of the cool things they've been doing at home.
Mommy & Daddy Time
When was the last time you had a couple's dinner on vacation? It's tough to pull off unless you want to fork out a large sum for the resort's nannies to come and look after your children. Lucky for us, Beaches actually has a team of certified staff to look after our kids for no additional charge if we were looking for some time away, but gramma was only too happy to sit with the kids while we stepped out for some time together!
Gramma and Grampa Time Too
While it's nice for gramma and grampa to enjoy some time together as a family, they need their own time too! Beaches has the beautiful Redlane Spa if they would like to be pampered with a massage or treatment. They can also arrange to have dinner together in one of the beachside gazebos.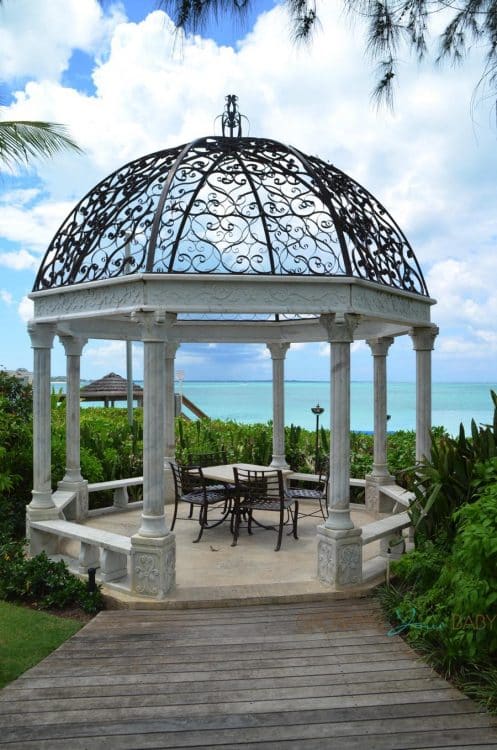 New Adventures For Everyone
Gramma and grampa have a vacation routine that includes exploring the beach and relaxing by the pool. My boys don't play that way, but it got gramma out of her zone. One morning we had breakfast with the Sesame Street crew and it was fun to see her up dancing with the kids and doing the conga line with Elmo!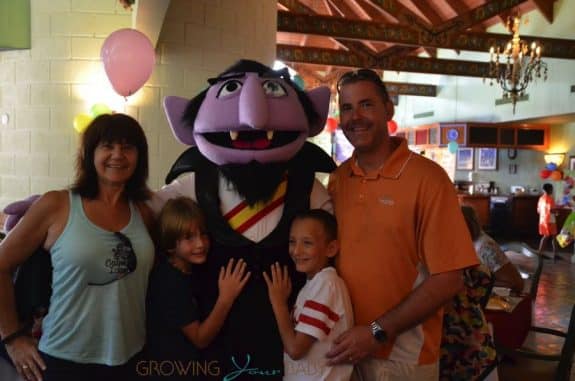 Through the Sandals Foundation, we also spent some time at a local school having the kids read to some of the children in Kindergarten and Grade 1. This gave gramma the opportunity to see how well the kids are doing with their studies. Because they live 2 hours away, my parents rarely get to see the kids in their school environment so this was a new experience for my mom.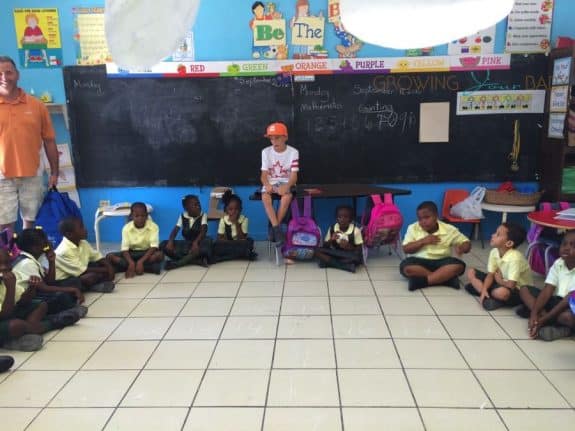 Kids Are On Their Best Behaviour
I don't know about your kids, but mine are always on their best behaviour around my parents. There are way too many Christmas presents on the line if they act up. On this trip I found that when they started to get a little crazy all my mom had to do was give them a disappointed look and they were back in line.
We like to call that gramma magic!
More Pictures
If it's possible, my mom takes more pictures than I do! Often when we vacation, I find there are a lot of pictures of my husband and the kids, me and the kids, my husband and each son, but rarely my husband and I or the four of us together. She caught us in some really sweet candid moments and also got some pictures of the four of us. There are few backdrops more perfect than Grace Bay so these pictures capture moments we will never forget.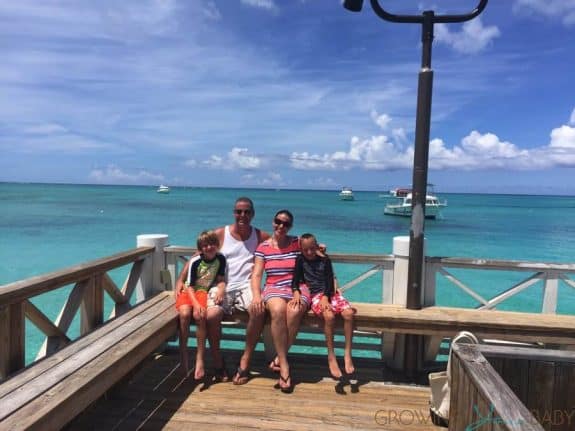 An Extra Set Of Eyes
One of the stresses of travel is navigating a new destination safely.  I am always asking my husband, "Do you have…" or " Where is.."  On this vacation, many times I heard a voice from behind me say, "I've got him." or "He's in front of me, " which was comforting when we were going somewhere.
Lots Of Room For Everyone
While most rooms at the average hotel are designed for just 4 guests, many of the rooms at Beaches were created for families of 6 all the way up to 12 guests. On this vacation, we stayed in one of their Two Story Two Bedroom Concierge Suites.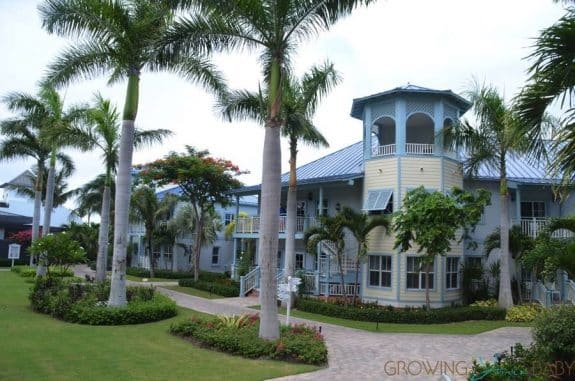 Equipped with two bedrooms with King sized beds, two bathrooms(one with a jacuzzi), a full sized kitchen and more than 1000 sqft of living space, this suite could easily accommodate a family of four plus gramma and grampa.
Having two master bedrooms means that everyone has lots of personal space during their downtime.  As an added bonus there was a shaded second floor balcony where we could enjoy the view!
Mother-Daughter Time
Even though it's nice to have my mom with us for the kids, it was even better to have her there for me.  When we vacation, I don't always want to do the same things my boys do like playing video games in the lounge.  This was the perfect time for me to give them a high five and visit some of the shops or hit the Cafe Du Paris for some after dinner treats with my mom.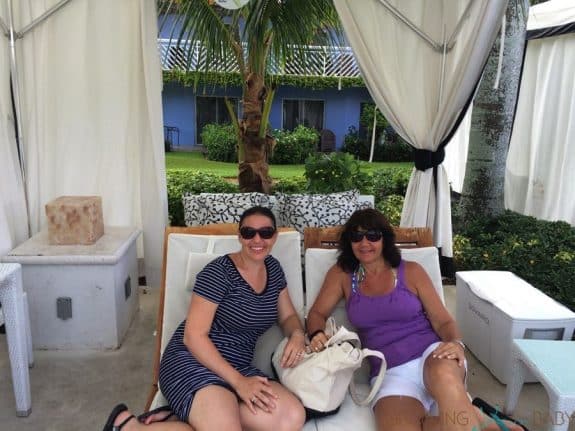 A Lifetime of Unforgettable Memories
When you are on vacation, life happens.  Good moments, funny moments, and are you kidding me moments, and it's nice to have your family there to experience it together.  The relaxing pace of the resort gave us the opportunity to create lots of priceless memories we'll never forget.
For more information on Beaches Resorts, please visit beaches.com
Here is an Aerial Video of Beaches Turks and Caicos